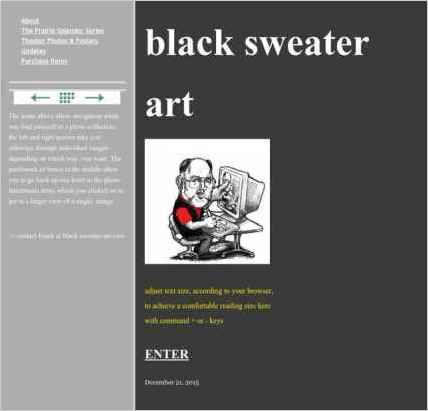 Sandvox was the choice for George F Mayfield to build his website for black sweater art. He chose the "Two Lines Grey" design for the site. People may want to visit the site if they are looking for wildflowers, prairie grasses, tall grass prairie, fine art photo.
Sandvox features used for this site:Blog, External Page, Photo Grid, Custom Collection Index, Contact Form, RSS Feed Object, Other Objects, Editing HTML of text, Raw HTML Object, Code Injection
--- Describe your website.
The black sweater art web site is designed to showcase my photography. I specialize in theater photos & posters and prairie images. For those interested, I post occasional updates on my ongoing projects. Viewers may purchase items they find interesting, as well.
Who is the target audience for your website?
The black sweater art web site will interest those people who love flowers, nature, and/or conservation, as well as those gardeners who have, or are thinking of planting, a prairie garden near their home.
What is the advantage of your website over others?
The black sweater art web site is the only fine art prairie photography site in existence that allows the viewer to see a large number of images of original prairie wildflowers and grasses, and to purchase these images in various sizes and formats, including prints only, mounted, or framed.
Why did you use this Sandvox design?
Smooth Dark was the template design I used for my black sweater art web site. The template is set up to highlight photographs by darkening all the surrounding space using various shades of gray. The final effect dramatically increases the color and luminosity of photo images.
What techniques did you use to build this website?
Navigation through a large number of photographs is difficult at best. I was able to design a web site that allows the viewer to easily see all 53 of the featured species images from my first book - Abundant Splendor: Wildflowers of the Tall Grass Prairie - by using a photo collection. This photo collection allowed me to design a standardized individual species featured image enlargement page, along with the forward (next) button in the Smooth Dark template design, that allows the viewer to position their cursor over one spot on an individual species image enlargement page and click through all 53 featured images without moving the cursor. This may not sound like much until you want to quickly move through a large collection of photo images. It's very helpful.
---
---
www.SandvoxSites.com/775