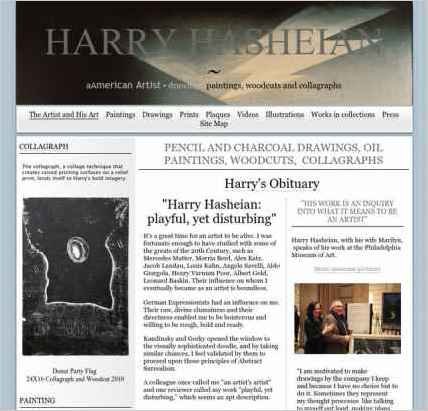 Sandvox was the choice for John Snow to build his website. He chose the "Neo News" design for the site. People may want to visit the site if they are looking for an excursion into the mind of a contemporary American Artist..
Sandvox features used for this site:Photo Grid, Site Map, Contact Form, Other Objects, Google Integration
Visit Harry Hasheian:Playful, yet disturbing »
---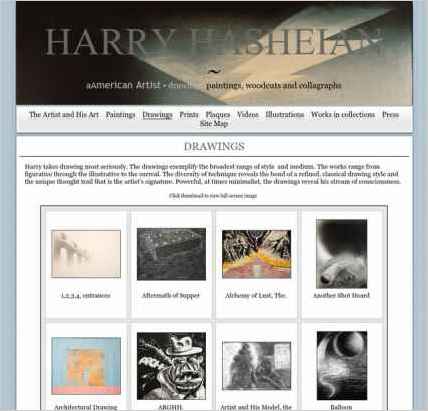 Describe your website.
I want to tell you about Harry Hasheian, American Artist. I want you to meet the artist and his art. On the pages of this site I introduce you to his paintings, drawings, Prints, plaques, and illustrations. I also want you to see the works in collections. I want you to see that his work is an inquiry into what it means to be an artist.
Who is the target audience for your website?
This site is for anyone who wants to know what is happening outside the major museums and galleries, where the really exciting work is being done.
Why did you use this Sandvox design?
I chose Neo News for this website because it was very masculine and minimalist. I wanted the artwork to speak louder than the page design and this design worked best. It also worked well for including one of Harry's paintings in the masthead behind the title.
What techniques did you use to build this website?
Primarily, I kept his simple. I used photo album pages from collections and photo pages. I did include a rich text page and a site map page. I do hope to convince Harry to provide material for a blog.
---
---
www.SandvoxSites.com/817