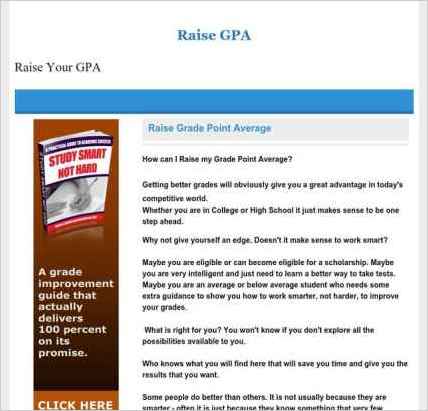 Steven Wallach used Sandvox to build this website. He chose the "Something Borrowed" design for the site. People may want to visit the site if they are looking for How to raise my grade point average gpa.
Sandvox features used for this site:Other Objects, Code Injection, Google Integration
---
Describe your website.
This site is designed for students who want to know how to get a better grade point average. Get into a better college and learn how to study efficiently and effectively. It is also designed to provide information to parents who want their children to achieve a better GPA and do better in school. Get a competitive edge by the study smart not hard method. Whether the student is in High School, College or University, RaiseGPA will provide the resources to Raise your Grade Point Average - GPA.
Who is the target audience for your website?
High School Students, College Students, College Preparatory Students, Teachers, Parents of Students, General Equivalency Diploma Students, GED Candidates, University Students, Law School and Medical School or Advanced Degree Students. Parents of Students.
What is the advantage of your website over others?
Understanding the importance of having a competitive edge in today's world, I have studied which tools will help a student raise their grade point average or GPA. This is an efficient tool to learn how to achieve the goal of raising your GPA and the possibility of learning how to study smart, not hard is available at RaiseGPA.
Why did you use this Sandvox design?
This Sandvox design is clean and to the point. There is no distraction and the design allows me to get the point of Raise GPA across to the reader with simplicity and ease of reading. People want to get things done in the most efficient manner possible and this Sandvox design allows me to present my product in a way that just simply cuts to the chase.
---
---
www.SandvoxSites.com/785