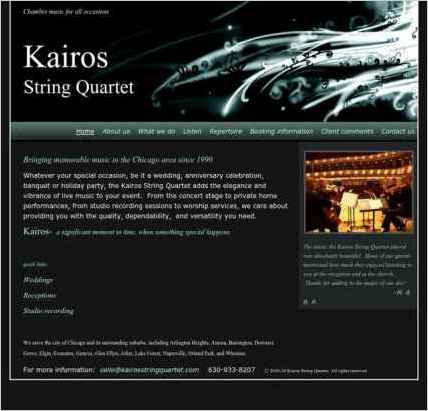 To build "Kairos String Quartet," Catherine Kuna chose Sandvox. She chose the "Night Breeze" design for the site. People may want to visit the site if they are looking for string quartet weddings Chicago.
Sandvox features used for this site:Contact Form, QuickTime Audio/Video, Other Objects
---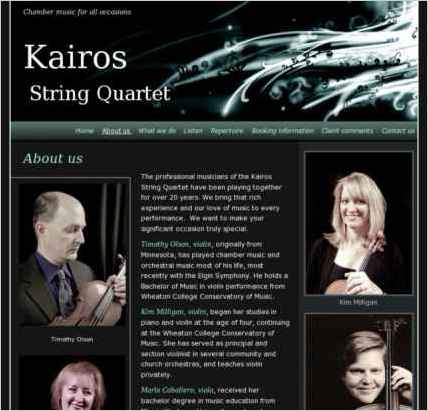 Describe your website.
The Kairos String Quartet website has information pages for clients interested in hiring us for weddings; receptions, banquets and private parties; studio recording and string arrangements; and concerts. A visitor to our site will be able to read about us and our services, listen to excerpts of our music, download our list of repertoire, and read client comments.
Who is the target audience for your website?
We serve corporate and private clients in the Chicago area who are planning special events such as banquets and weddings. We work with musicians who want an experienced string section for their recording projects.
We are also available to community organizations and educational institutions who are looking for a special concert presentation.
Why did you use this Sandvox design?
Night Breeze has an elegance to it that reflects what we do and who we are. Music is moving and flowing, and the Night Breeze design gives a flowing effect. Many of our events are formal occasions, and the dark background with lighter text gives a sense of distinction.
What techniques did you use to build this website?
I included a few links to websites of clients on whose recordings we appear. There is a download page for a PDF of our repertoire list (which is sizable, so not really good to appear as a web page). There are several audio files on the Listen page. There is a page for client testimonials.
---
---
www.SandvoxSites.com/1011