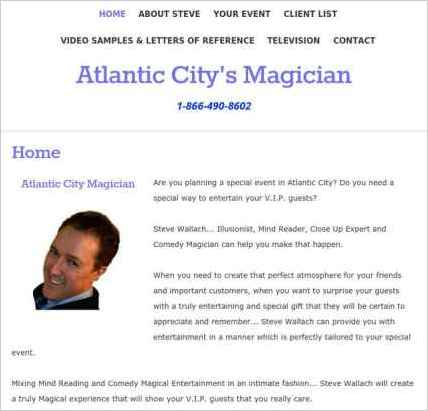 Steven Wallach used Sandvox to build this website. He chose the "Blueball Reactive Purple" design for the site. People may want to visit the site if they are looking for Magician in Atlantic City.
Sandvox features used for this site:External Page, Site Map, Contact Form, Other Objects, Code Injection, Google Integration
Visit Atlantic City Magician »
---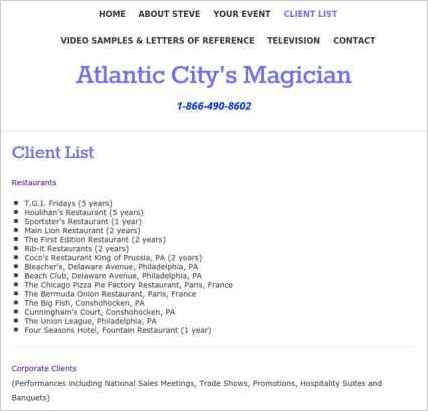 Describe your website.
If You are planning a special event in Atlantic City and you need a special way to entertain your V.I.P. guests, Steve Wallach... Illusionist, Mind Reader, Close Up Expert and Comedy Magician can help you make that happen. Mixing Mind Reading and Comedy Magical Entertainment in an intimate fashion, Steve Wallach will create a truly Magical experience that will show your V.I.P. guests that you really care. People want their guests to remember the wonderful experience which you provided for years to come, and most importantly, they will remember the special gift of Magic that you, their host, gave to them.
Who is the target audience for your website?
My target audience is anyone planning a special event in Atlantic City and needs need a special way to entertain your V.I.P. guests, these people should absolutely visit http://www.atlanticcitymagician.com/ . As well, http://www.atlanticcitymagician.com/your-event.html would be of special interest to anyone who may be entertaining guests from out of town at your shore house or you may be a casino host looking for just the right way to entertain your V.I.P. guests. You may be entertaining business clients at your trade show hospitality suite or looking for just the right way to get more people to visit your booth at that very important trade show. Anybody who falls into the above categories would be the exact target audience for www.atlanticcitymagician.com .
What is the advantage of your website over others?
My past and recent performance which include shows for The CEO's & Chairmen of the Boards of Rhone-poulenc Rorer Inc., Merck and GSK, and that Steve Wallach was a featured performer at Hockey Star Eric Lindro's 21st Birthday Celebration in Philadelphia and has performed for the Philadelphia Flyers as well as the Philadelphia Eagles. As well as, Atlantic City and Las Vegas events include recent multiple performances at the Atlantic City Hilton Casino & Resort, the Tropicana Casino & Resort, The Red Square at the Tropicana Quarter in Atlantic City, The Red Square at Mandalay Bay in Las Vegas, Planet Hollywood Resort & Casino in Las Vegas, The Consumer Electronics Show in Las Vegas and more establish the level of professionalism not often seen with most of my competitors. More information which distinguishes me from the competition can be found at http://www.atlanticcitymagician.com/about-steve.html .
Tell us a story about this website.
Until I started using contact forms I would get phone calls from people who just wanted to know the price. They only cared about the price and could not understand why performances varied depending on the number of people, length of the show, location of the show. For example, is the show next door or is it in other places where I have performed such as, Mexico, the Caribbean, North Africa and Europe. Now that I use my contact form http://www.atlanticcitymagician.com/contact-steve.html , I save many hours each year because I have the information already available so that I can help my customers and " provide you with entertainment in a manner which is perfectly tailored to your special event. "
Why did you use this Sandvox design?
Sandvox is great. I had been using the pre-made templates and then the Sanvox Training Videos came out. I ordered them immediately based on the quality that I have come to expect from Sandvox. Prior to placing the order I looked at the sample tutorials and realized that I could change the header to fit my business cards. This inspired me to create some more sites and get them up, the design I chose accommodated my business card the best and allowed me to create a very professional look and feel to my site. I still haven't begun to watch the Sanvox Training Videos, I am excited and there will be more Sanvox sites to come.
What techniques did you use to build this website?
Site Code Injection in conjunction with a Stat Counter is absolutely beneficial to anyone using Sandvox. This helps you to understand where your traffic is coming from and what people are searching for when they find your sites. It is easy to use and quite valuable. Also, the contact form. The contact form can really simplify things, depending on your business. Sandvox really created a winner with the contact form. Also, the ability to change the banner or header is a great new addition to my Sandvox tool kit.
---
---
www.SandvoxSites.com/857