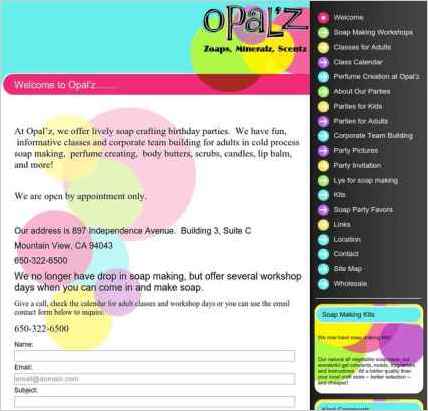 To build "Opal'z - Soaps, Scents and Minerals" for Opal'z, Annie Jenkins chose Sandvox. She chose the "Trippy Bubbles" design for the site. People may want to visit the site if they are looking for Soap Making, Soap Making San Francisco Bay Area.
fun kids unique crafty make-up soap making family outing make your own bath and body mom and me crafts girls night birthday party waxes
Sandvox features used for this site:Blog, Site Map, Contact Form, YouTube, QuickTime Audio/Video, Google Integration
Visit Opal'z - Soaps, Scents and Minerals »
---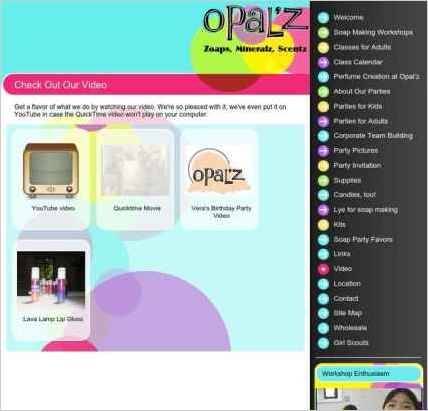 Describe your website.
soap making for kids, birthday parties, learn to make soap, candles, lotion crafting, supplies for bath and body products, craft supplies and classes, scent your own lotion, liquid soap and body wash, melt and pour soap crafting, cold process soap making, make-up classes, natural mineral make-up, body butters, balms.
Who is the target audience for your website?
Kids, San Francisco Bay Area, Peninsula cities, Palo Alto, planning a birthday party, easy and inexpensive crafting birthday, do it yourself lotion and soap,
What is the advantage of your website over others?
There is no other business like this which is why I need help driving people to the site. Customers like it once they find it.
Tell us a story about this website.
Everyday I hear that customers find me from my website. My location is very hidden so the web presence is my best storefront.
Why did you use this Sandvox design?
Bathtub has the right colors and feel for my logo and my message. I wish I could get rid of the ABCs, but besides that it is the perfect fit of tubby, bubbly, kiddish fun!
---
---
www.SandvoxSites.com/60