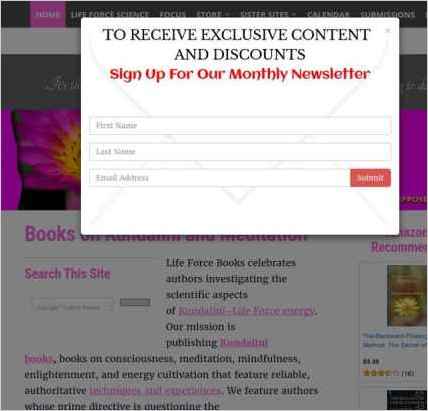 To build "Life Force Books," JJ Semple chose Sandvox. He chose the "Blueball Apex Pink" design for the site.
Life Force Books
(Website is no longer listed here.)
Sandvox features used for this site:Blog, Podcast, External Page, Custom Collection Index, Site Map, Contact Form, Amazon.com, YouTube, QuickTime Audio/Video, RSS Feed Object, Other Objects, Editing HTML of text, Raw HTML Object, Code Injection, Google Integration
---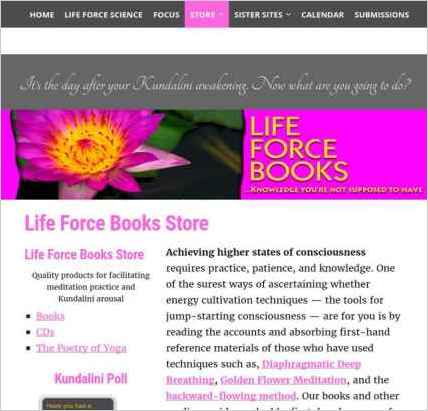 Describe your website.
Life Force Books features submissions and calendar pages as well as a Life Force Books Store, which features, books, CDs, and pH balancing products.
In addition, it links to the Golden Flower Blog and the Common Sense Kundalini pages hosted on different sites.
Who is the target audience for your website?
Life Force Books publishes books on Kundalini, golden flower meditation techniques for awakening Kundalini, and promotes Gopi Krishna research.
This enables us to focus on esoteric issues in a way that other sites cannot: sexual alchemy, neuroplasticity, near death experience, and Life Force Science.
What is the advantage of your website over others?
Life Force Books authors benefit from this narrow focus. Our books focus on activating the life force (kundalini).
Tell us a story about this website.
This was our first website; we got some things wrong, but learned a lot in the process — how to name pages and how to leave space for adding content without destroying the URL hierarchies.
Why did you use this Sandvox design?
All Life Force Books sites use the Cubicle Wide design by Bluebell.
What techniques did you use to build this website?
We like the way the Collection pagelet allows you to simulate sub-menus. It would be great if the next version of Sandvox featured sub-menus. We like the way Sandvox integrates Google ranking, etc.
---
---
www.SandvoxSites.com/966