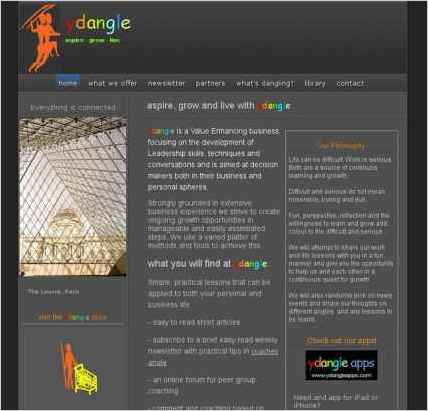 Sandvox was the choice for Eric Nienaber to build his website for ydangle. He chose the "Smooth Dark" design for the site. People may want to visit the site if they are looking for Leadership development, Coaching, Strategy Development and Meeti.
Sandvox features used for this site:Blog, External Page, Photo Grid, Custom Collection Index, Site Map, Contact Form, Amazon.com, RSS Feed Object, Other Objects, Editing HTML of text, Raw HTML Object, Code Injection, Google Integration
Visit ydangle - aspire, grow, live »
---
Describe your website.
What our website offers is clearly spelt out in the what we offer section of the site. The site is focussed on leadership development, coaching, mentoring strategy facilitation and meeting or event facilitation. In the what's dangling section our coaches comment on articles in the general media from a leadership and coaching perspective. We also provide a weekly newsletter that provides our coaches angle on relevant personal development topics. Our answer box is a provides a forum for dialogue on leadership and coaching topics. The books and music section provides books and music recommendations and links to affiliates. We also created a shop that provides lifestyle items to our target market.
Who is the target audience for your website?
Our target audience is middle and senior managers in corporate organizations as well individuals looking to improve their leadership skills and become successful business people with a healthy balanced lifestyle.
What is the advantage of your website over others?
Our website provides practical, free leadership advice from experienced executives. It does away with the typical, very theoretical approach to leadership topics and provides a fun, practical approach.
Tell us a story about this website.
Some fun was had coming up with the name. Finding a unique name that reflects what our business is about was amazingly difficult, particularly if you wanted a .com address! The name combines taking a different and broad angle on things and not to be left dangling in life but to live it. This gave us a "wide angle" and a rhetorical question "why dangle" which led to ydangle....
Why did you use this Sandvox design?
The background colors provided a nice backdrop to the bright colors we wanted to use in our logo. We felt it gave a serious professional yet fun feel to the site. We also use photographs on our site and the color enhances this. The design is neat and well structured.
What techniques did you use to build this website?
Very useful was he HTML and code injection for integration of Mailchimp, Polldaddy, Facebook and Twitter
---
---
www.SandvoxSites.com/868