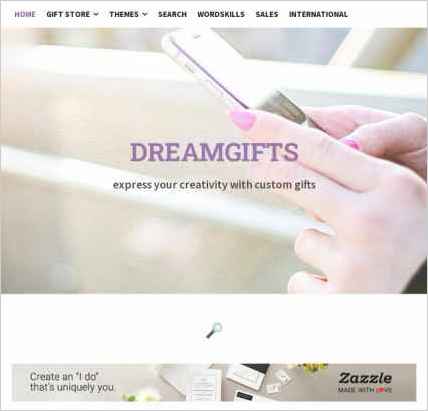 David Paul used Sandvox to build this website. He chose the "Blueball Flexor Purple" design for the site. People may want to visit the site if they are looking for Home Decor, Office Products, Custom Gifts.
Sandvox features used for this site:Contact Form, Editing HTML of text, Raw HTML Object, Code Injection, Google Integration
---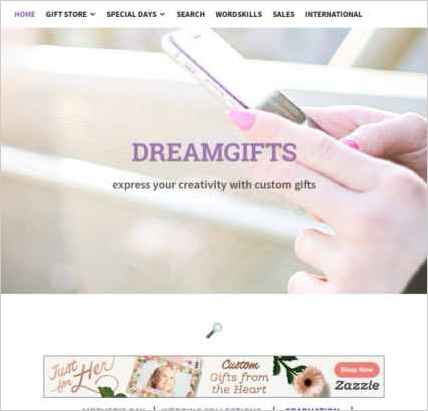 Describe your website.
Our site offers a wide range of products that can be personalized by home and business customers.
Products are organised either by department (Home And Pets, Accessories, Electronics, Clothing, Office Products, Cards and Postage, Art Posters And Canvases) or for special occasions.
We offer customizable products such as Pi Day shirts, Christmas gifts , and gifts for kids including many brand names to which they can add their names alongside favorite characters on T Shirts and other gifts - superheroes, Mickey Mouse and Friends, Madagascar and Dreamworks gifts, to name a few. Pets are not forgotten. Loving cat and dog owners can customize pet bowls and pet clothing.
In addition to being a pro designer on Zazzle, the world's leading production on demand facility, we promote the work of fellow designers on Zazzle, whose customizable products we sell not only within the USA, but also worldwide on our Zazzle International pages.
Who is the target audience for your website?
Our goal is to allow anyone to express their creativity through customization and personalization of any product to suit their needs and requirements, or those of their recipents if the product is purchased as a gift.
Our products serve customers of all ages and lifestyles, from baby pacifiers (not always for baby!) and baby shower announcements to important milestones later in life ( wedding collections, for example).
Business products are covered too with many themes of business cards (including the very popular themes for the legal professions, automotive services, realt estate agent, medical nursing dentistry, fashion style themes and beauty cosmetics businesses).
We also cater for fine art enthusiasts with innovative products that combine the initiative of the Rijksmuseum, Amsterdam in promoting the customization of home and fashion goods with works of art in our Art World department.
What is the advantage of your website over others?
With over 20 years experience in technology, design, and training, we are very much aware of the needs of small businesses and the problems they face in a competitive environment.
Our skills lie in designing easy, cost effective solutions for customers. In the years we've been doing business, we've had many clients from around the world, providing services to private individuals as well as corporate professionals in the private sector and in the public sector, so our outlook is truly global and our approach professional.
Product customization is encouraged and we would help prospective customers achieve that on request, often free of charge if it would lead to a win-win situation for all.
Our website reflects a professional approach as we employ technology 'under the hood' to support our marketing efforts with structured meta data embedded in all product pages to provide visual impact on social media: Twitter cards for spreading the word, enabling rich pins on Pinterest, and highlighting customer reviews with structured data in search engines.
Tell us a story about this website.
As Olaf would say ( in Movie Gifts ) we're always up for adventure and have some stories to tell.
On one hand, we've wrestled with the challenge of putting Chinese script on an iPhone case with customized camera effects. On the other hand, we've been pleased when a marketing company bought a large number of our clocks for an international exhibition.
We've been involved in re-designing products for many a bulk order ( e.g. custom ties for a wedding planner ), but even single purchases have surprised us at times. We once had a customer who bought one of our Headcam Hats and actually replaced the image of a camera lens on it with a real camera lens. His experiences are described in the corresponding entry in customer reviews.
Why did you use this Sandvox design?
We're using Flexor. It's a responsive design that not only satisfies Google SE's mobility criteria for 'awesome' mobile pages, but actually looks good on mobiles (check out cool iPhone 6 cases, iPhone 5 cases and cases for your iPhone 3,4, Samsung, Motorola that you can customize and buy) and tablets (iPad Air cases), as well as desktops.
It was easy to customize the look and feel of the site with page and site injection code that overrides the design CSS when needed. The design was particularly easy to implement and only took a few days work to tweak all the pages that had previously been styled with Sandvox Cirrus, a non-responsive design.
What techniques did you use to build this website?
We use raw html objects usually filled with php code to display fresh content from product data rss feeds whose content may frequently change.
Page code injection is used extensively to add the structured data meta tags for publishing on social media, as described above.
---
---
www.SandvoxSites.com/815