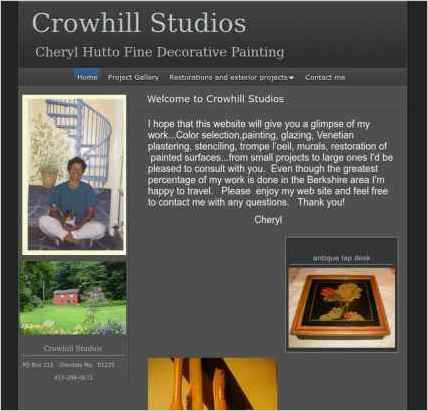 Cheryl Hutto used Sandvox to build this website for Crowhill Studios. She chose the "Smooth Dark" design for the site. People may want to visit the site if they are looking for decorative painting in the Berkshires.
Sandvox features used for this site:Photo Grid, Site Map, Contact Form, Other Objects, Google Integration
Visit Cheryl Hutto Fine Decorative Painting at Crowhill Studios »
---
Describe your website.
My website is designed to descibe my decorative painting business at Crowhill Studios in Glendale, Massachusetts and surrounding areas where I travel to render all types of faux finishes and painted surfaces. It is divided into a home page, a project gallery of photos and a contact page.
Who is the target audience for your website?
My audience is mostly upper income, middle age. My clients desire and can afford unique and/or beautiful custom wall finishes and furniture.
Tell us a story about this website.
I received a request from "the Old Fahioned Milk Paint Company" asking if they could post photos of my work on their site. They had discovered the photos on my Sandvox site of my completed projects which featured their milk paint. They must have Googled "milk paint"!
Why did you use this Sandvox design?
I chose a dark simple background because I feel that it shows my photos to their fullest.
---
---
www.SandvoxSites.com/812