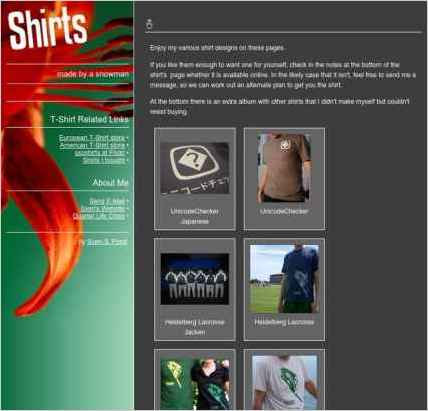 Sven-S. Porst used Sandvox to build this website. He chose the "Grey Leaf" design for the site. People may want to visit the site if they are looking for T-Shirts.
Sandvox features used for this site:Photo Grid
---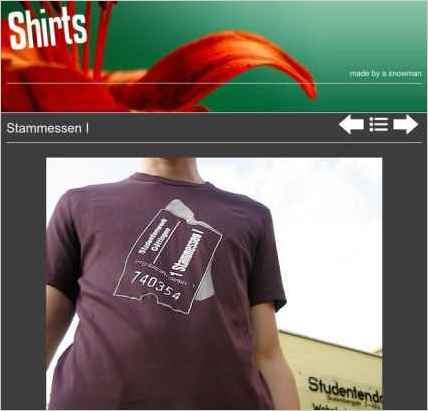 Describe your website.
I like designing my own T-shirts, preferably with obscure motives. This site shows off the designs like my abstract Glenn Gould shirt, the Stammessen I shirt I made for a friend, the Child Stars shirt which is a tribute to Clap Your Hands Say Yeah or the design I made for the Heidelberg Lacrosse team.
An additional section of the site collects the band shirts I wasted money on over the years.
Tell us a story about this website.
A visitor of my site offered 50 bucks for my well worn Moldy Peaches European Tour 2002 shirt. But the memories are so great that I didn't want to part with it.
Why did you use this Sandvox design?
Grey Leaf is simple but still has a nice and special look. The flexible width is an additional bonus.
What techniques did you use to build this website?
This site doesn't use any extra tidbits. The only non-obvious thing about it may be the photo-grid on the start page. But once you know that this can be set up by choosing the desired settings in the Page → Collection part of the Inspector, even that is quite simple.
---
---
www.SandvoxSites.com/419