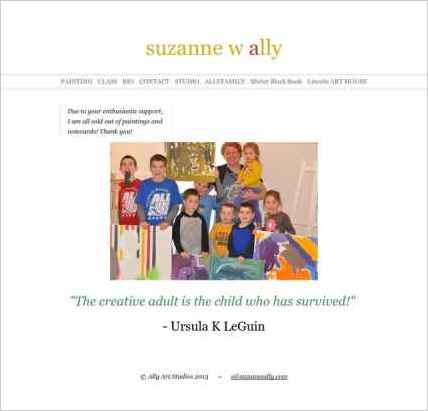 To build "Suzanne Ally Painting" for Ally Art Studios, Suzanne Ally chose Sandvox. She chose the "Clean Sheets" design for the site. People may want to visit the site if they are looking for suzy ally, harry ally, suzy ally blog, suzanne ally blogspot, fi.
Sandvox features used for this site:Blog, Photo Grid, Custom Collection Index, Contact Form, Other Objects, Editing HTML of text, Raw HTML Object
This website is hosted by Sandvox Hosting.



--- Describe your website.
My website blog serves the need to exhibit my paintings and writing and receive client feedback and artistic exchange. It gives me the opportunity to share things that affect my life and my painting & writing like Twitter, and to display necessary information like my bio and contact info all in one neat tidy location.
Who is the target audience for your website?
I have found that other abstract artists, writers, bloggers, art & humanities students are drawn to my site. After gathering data via Google Analytic, I see that most traffic comes from the US, but increasingly from countries around the globe.There seems to be no limit to age or gender.
What is the advantage of your website over others?
The advantage to my website is that it features paintings and writing by me. No other website has me. There is painting for the eyes and writing for the mind.
Tell us a story about this website.
My husband and I live in different cities. He is my best critic of both my paintings and my writing. Every morning he checks to see if I have written anything in my blog or posted a new painting. During this time we are living apart we have my website as our secret meeting place, in plain view of the whole world!
Why did you use this Sandvox design?
I have not yet decided on a design for my website. I am trying different ones and will possibly change them intermittently. This is one of my favorite features of Sandvox is the ability to "change skins" without redoing the entire website over.
What techniques did you use to build this website?
I am still learning the tricks of others but I am sure I will come up with some of my own in time!
---
---
www.SandvoxSites.com/309