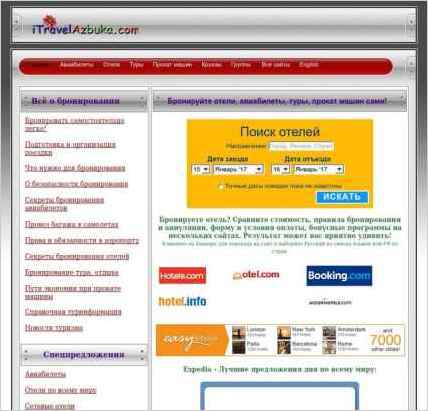 Sandvox was the choice for Jim Schwartz to build his website. He chose the "Industrial" design for the site.
iTravelAzbuka.com
(Website is no longer listed here.)
Sandvox features used for this site:External Page, RSS Feed Object, Editing HTML of text, Raw HTML Object, Code Injection, Google Integration
---
Describe your website.
The idea to create this virtual travel club came because our friends started to use the Internet to book trips and vacations, the realities of new and enhanced Internet travel resources required more innovative answers about how to use them most effectively and expediciously.
Who is the target audience for your website?
We chose to create our own review of such Internet travel resources, sharing our experience of making Internet bookings with beginning and experienced travelers.
We hope that travelers who have already experienced making Internet bookings will share their knowledge with us in our Forum and maybe even find some new insights here, too.
What is the advantage of your website over others?
Travel companies, airlines, and other tourism portals are joining together to offer consumers their services. So, let us as travelers join together to help each other use all available Internet resources to book diverse trips and interesting vacations.
On iTravelAzbuka.com we plan to place reviews of our visitors' most interesting, and challenging, online Internet booking and reservation experiences.
Why did you use this Sandvox design?
"Industrial" provided us with the best balance between looks and accessibility.
---
---
www.SandvoxSites.com/274