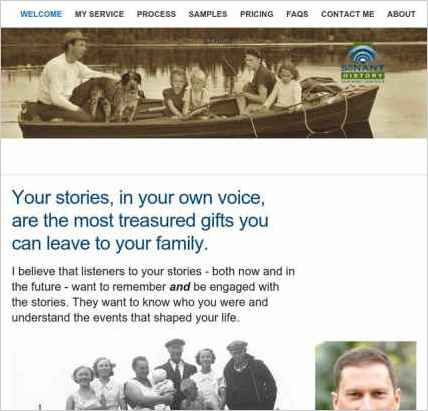 James Barkley used Sandvox to build this website. He chose the "Blueball Reactive Blue" design for the site. People may want to visit the site if they are looking for audio interviews.
Sandvox features used for this site:Site Map, Contact Form, QuickTime Audio/Video, Other Objects, Code Injection, Google Integration
Visit Sonant History - Your Story, in Your Voice »
---
Describe your website.
My service is to capture your personal stories and preserve them in high quality audio for future generations.
I believe that your stories, in your own voice, are the the most treasured gifts you can leave to your family.
I have a process to help us plan and conduct the interviews. I have professional-grade digital audio recorders and microphones, and I use extensive editing and story segmentation to deliver a broadcast-quality final production. See my website for samples and testimonials.
Who is the target audience for your website?
My clients are interested in preserving their own stories, or those of their family members, such as parents or grandparents. My clients value my high quality digital recording equipment, my professional yet comfortable interviews, and polished editing and production skills.
What is the advantage of your website over others?
My website uses examples to show the importance of capturing your story, in your voice.
Tell us a story about this website.
My service is very personal, so I use examples from my family to illustrate the importance of capturing spoken stories. Sandvox makes it easy for me to update my audio messages and story samples.
Why did you use this Sandvox design?
I wanted a clean and professional design, where my content wouldn't have to compete with colors and frill.
What techniques did you use to build this website?
I use QuickTime to share audio samples and audio messages throughout my website.
---
---
www.SandvoxSites.com/488