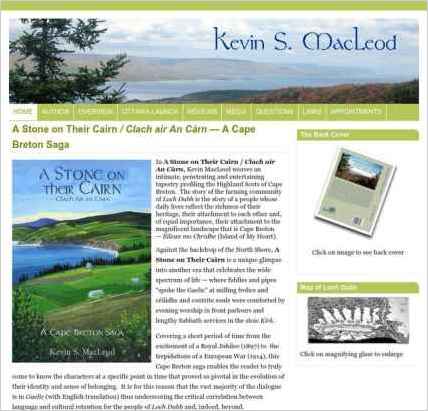 Stuart Fraser used Sandvox to build this website. He chose the "Earth & Sky" design for the site. People may want to visit the site if they are looking for Author, Cape Breton historical novel, Usher of the Black Rod, Se.
Sandvox features used for this site:Photo Grid, Custom Collection Index, Site Map, Contact Form, Other Objects, Editing HTML of text, Raw HTML Object, Code Injection, Google Integration
Visit A Stone on Their Cairn / Clach air An Càrn — A Cape Breton Saga »
---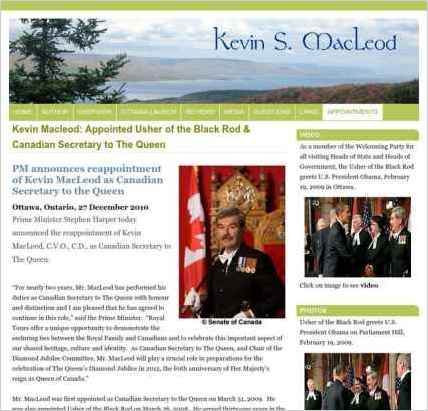 Describe your website.
My website features Kevin S. Macleod, a Canadian, originally from Cape Breton, Nova Scotia. The website was originally designed to showcase his historical fiction novel, A Stone on Their Cairn/Clach air An Càrn, in which he weaves an intimate, penetrating and entertaining tapestry profiling the Highland Scots of Cape Breton. The purpose of the website quickly broadened into a biographical exposé. For example, Kevin MacLeod is the only Canadian to have been promoted through all three ranks of the Royal Victorian Order in recognition of personal service to Queen Elizabeth II. He is Commander of the Victorian Order (C.V.O.)—the highest level available to Canadians. He was also awarded the Canadian Forces Decoration (C.D.) in recognition of service to the Military. Canadian Prime Minister Stephen Harper recently appointed Kevin MacLeod to two positions: the ceremonial position of Usher of the Black Rod in the Senate and Canadian Secretary to the Queen, in which he will be responsible for organizing upcoming Royal visits to Canada. Mr. Macleod will also chair the Diamond Jubilee Committee—celebrating Her Majesty's 60th anniversary as Queen of Canada in 2012.
Who is the target audience for your website?
My website appeals to those who are interested in an historical fiction novel about the Highland Scots of Cape Breton in East-Coast Canada. Anyone interested in the Gaelic language, Celtic culture and the Scots in Canada will be fascinated with the contents of this website. Additionally, people interested in Canada's system of government, and in particular with knowing more about the traditions, conventions and institutions of Canada's Constitutional Monarchy, will surely gravitate toward this website.
Tell us a story about this website.
I first became interested in publishing this website when a friend of mine wrote and successfully published a novel, and to compliment this occasion I suggested that I help him launch a website to showcase his many accomplishments. After finding the appropriate software (Sandvox), it soon became apparent that this website would do far more than showcase a novel. It evolved into a rich biographical site featuring a Canadian whose talents, career, service to Queen Elizabeth II and Canadian Prime Ministerial appointments appeal to a wide variety of interests.
Why did you use this Sandvox design?
I chose the "Earth & Sky" design primarily because of the colors. The shades of green compliment the custom banner and the book's cover art featured on the home page. I tried other designs, but settled on this one without ever looking back. I really like the gradient background.
What techniques did you use to build this website?
My website features a fair amount of video and audio media, but I was not entirely happy with QuickTime, as I kept receiving complaints (especially from Windows users) that they were unable to view videos. So I purchased Mac software to convert movies and audio clips to Flash, and used Sandvox's html code injection to establish connections between the website and those files, which I manually uploaded to the server using an FTP program. The only limitation is that Sandvox does not handle Flash media, so the manual upload was necessary. Since then, I have had no complaints.
---
---
www.SandvoxSites.com/320