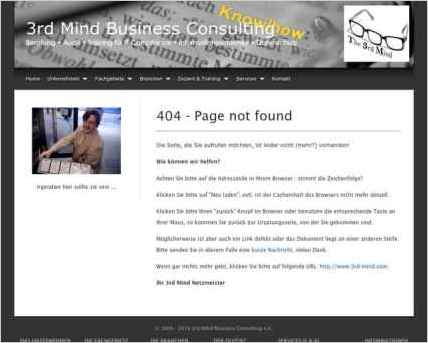 Sandvox was the choice for Frank Giebel to build his website. He chose the "Carbone" design for the site.
3rd Mind Business Consulting
(Website is no longer listed here.)
Sandvox features used for this site:Custom Collection Index, Site Map, Contact Form, Other Objects, Editing HTML of text, Raw HTML Object, Google Integration
Visit 3rd Mind Business Consulting »
---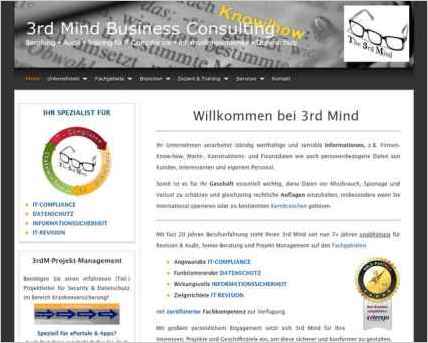 He entered his answers in German.
Describe your website.
Meine Website dient der Information über meine Unternehmensberatung und dem Leistungsangebot.
Damit können sich potentielle Kunden und Partner ein Bild für eine mögliche Zusammenarbeit machen und mich bei Interesse direkt kontaktieren. Auch werde ich in Zukunft Neuigkeiten aus dem Markt dort platzieren.
Who is the target audience for your website?
Die Zielgruppe für meine Website sind Endkunden und IT Firmen (Hersteller, Systemintegratoren)aber auch Firmenkunden aus dem deutschsprachigen Raum (Deutschland, Schweiz, Österreich). Da viele Unternehmen international aufgestellt sind, biete ich die Site auch in Englisch an.
Interessenten für meine Website kommen aus der Entscheider-Ebene, sowohl Geschäfts- als auch Fachabteilungsleitung, wie Marketing, Vertrieb und Personalabteiung.
What is the advantage of your website over others?
Durch meine langjährige Expertise im Vertrieb, Marketing & Business Development in der IT Branche habe ich in Personalunion ein spezielles Know-how im Bereich Compliance, Data Protection und Data Security aufgebaut.
Dadurch kann ich als unabhängiger Marktexperte verschieden Leistungen aus einer Hand den Unternehmen anbieten, die normalerweise separat und/oder nicht in dieser Tiefe angeboten werden. Der Kunde erhält einen kompletten - oder modularen - Service rund um das Thema Geschäftsentwicklung und Vetriebsschulung.
Er kann sehr viel einfacher entscheiden: make or buy.
Tell us a story about this website.
Alle Besucher meiner neuen, mit sandvox erstellten Website sind beeindruckt. Im Gegensatz zur ersten "professionell" erstellten und gekauften Site, bietet meine neue mehr Informationen, ist dabei übersichtlicher sortiert und optisch wesentlich ansprechender.
Und ich habe mich nun auch getraut, ein Foto von mir auf der Kontaktseite zu platzieren ;-)
Why did you use this Sandvox design?
Das Design gefällt mir, weil es nicht so quietsch-bunt ist wie manch andere und am besten mit meinen Vorstellungen übereinstimmt, die ich von meiner eigenen Website habe. Einige Anpassungen werden noch folgen, wenn ich wieder Zeit dafür habe.
---
---
www.SandvoxSites.com/325