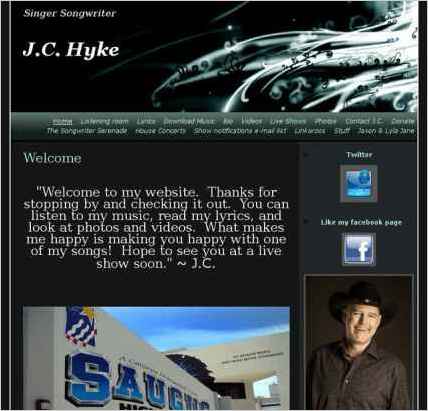 To build "," J.C. Hyke chose Sandvox. He chose the "Night Breeze" design for the site. People may want to visit the site if they are looking for original country music.
Sandvox features used for this site:Photo Grid, Contact Form, QuickTime Audio/Video, Other Objects, Editing HTML of text, Raw HTML Object
---
Describe your website.
/jchyke.com is a website where people can find great country music from an independent unsigned artist. A singer songwriter that you have not heard of yet. You can listen to my music, see photos, watch a music video, see where and when I'm doing my live shows, buy my CD or some T-shirts, download my tunes, or even make a donation for my next album.
Who is the target audience for your website?
My target audience is 18 to 75 anywhere in the world. Music is universal and people love any genre as long as it's great music.
Tell us a story about this website.
It's so easy for my now that I will be able to change it up all the time and make it interesting for returning fans of the site.
Why did you use this Sandvox design?
I liked the background color of the design and especially the photo at the top. It's this really cool kind of etherial shot of light and dark curves and little twirley things. It's hard to describe other than it looks really cool.
What techniques did you use to build this website?
I was able to integrate my paypal account with my site. I created buttons on paypal and then copied the HTML. Then I created a Raw HTML pagelet and pasted the code in there. Once I got it down, I was able to add in another 4 buttons with ease. Now I have 5 things for people to purchase on my site, just like a professionally designed site would have.
---
---
www.SandvoxSites.com/474