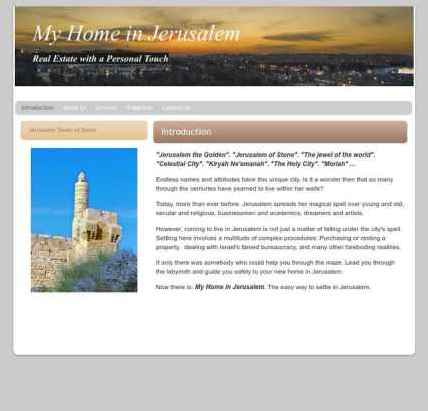 Sandvox was the choice for Moshe Caine to build his website. He chose the "Pacific Sky" design for the site. People may want to visit the site if they are looking for realestate, jerusalem homes, Jerusalem property.
Sandvox features used for this site:External Page, Photo Grid, Contact Form, Other Objects
---
Describe your website.
My Home in Jerusalem is a real-estate site for the estate agent Dafna Levy.
It offers services in home purchase, home rent and home maintenance and highlights latest properties in Jerusalem.
Who is the target audience for your website?
The site is aimed at prospective buyers, renters and owners of properties in jerusalem, coming from the English speaking communities.
What is the advantage of your website over others?
the site is simple to use and navigate. It is friendly and personal.
Why did you use this Sandvox design?
This particular design, which acted as a basis for my personalization, was chosen because it offered a good balance between text and images. The ability to create hierarchical topics and subtopics and an aesthetic which projects warmth and an "earthly" feel.
---
---
www.SandvoxSites.com/475