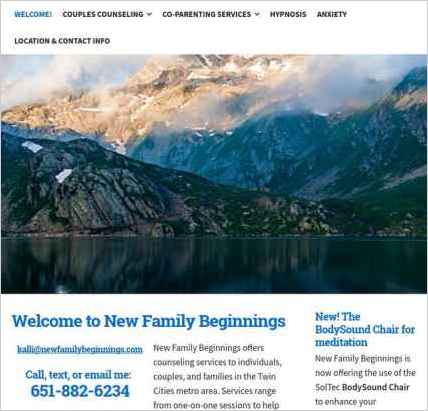 Kalli Matsuhashi used Sandvox to build this website. She chose the "Blueball Flexor Blue" design for the site.
New Family Beginnings
(Website is no longer listed here.)
Sandvox features used for this site:External Page, Site Map, Contact Form, QuickTime Audio/Video, Other Objects
---
Describe your website.
Welcome to my website, which is designed to introduce people to the services I offer - counseling for individuals, couples, & families. I offer couples counseling, family therapy, and have a specialty in hypnosis. With hypnosis, I often work with anxiety and related issues. I also work with IBS, weight loss, hypnobirthing, and more. Visit my site for location and contact info!
Who is the target audience for your website?
My target audience is made up of couples, families, or individuals who are struggling in their relationships or with some issue that keeps them from living their best life - such as anxiety or depression, anger or fears. I work primarily with people in my geographical area of the Twin Cities (Minneapolis & St. Paul, MN), men and women of all ages. I am interested in reaching people who are motivated to make positive changes in their life!
What is the advantage of your website over others?
My website is written in the first person, which I have been told helps it to feel more personable and friendly, a plus when people can be intimidated by thinking about seeking therapy or hypnosis. I have my picture and photos of my office so that people can see who they will be working with in what kind of environment. I also believe in transparency, so have worked to provide information that will them understand hypnosis and the other kinds of work I do.
Tell us a story about this website.
I have just published my Sandvox site, so no great stories yet, but I am sure they will come with time!
Why did you use this Sandvox design?
The design (Snapshot from Bluebell) had some dimensionality to it I liked, plus a very positive, bright feel. I liked the cleanness of the design, too. It didn't have a "cheap" feel to it - there was just enough sophistication to give it a friendly but high quality feel.
What techniques did you use to build this website?
I added in audio files so that people could hear an explanation of hypnosis and even one for them to try some self-hypnosis. I also like to use photos, so purchased photos from istock to give it more visual appeal and reinforce the messages of the text.
---
---
www.SandvoxSites.com/458