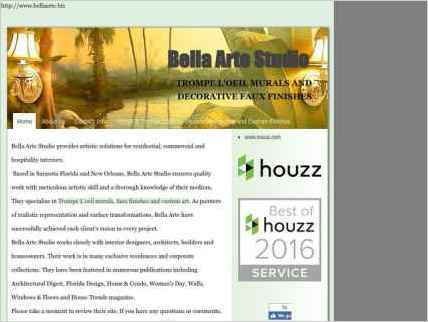 Sandvox was the choice for Mark "Marco" Bell and Monica Spain to build his website. He chose the "Minty Fresh" design for the site. People may want to visit the site if they are looking for mural painters New Orleans, faux finishes, custom artwork, decor.
Sandvox features used for this site:Contact Form, Other Objects, Google Integration
Visit Bella Arte Studio, Inc. »
---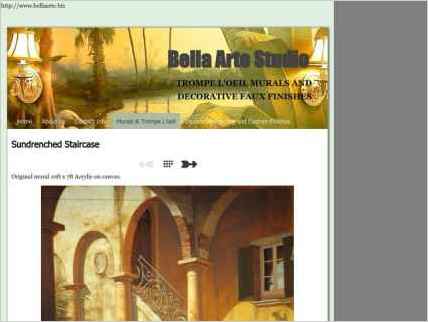 Describe your website.
Bella Arte Studio's website is designed to provide future clients with a sampling of our murals, trompe l'oeil, faux finishes, and custom art. All the images shown on our website were commissioned projects. Our next goal is to offer reproductions (giclees) of our artwork for purchase through our site.
Who is the target audience for your website?
Bella Arte Studio's focus is to attract Interior Designers, Interior Decorators, Architects, Home owners and the Hospitality Industry, in and around the magical city of New Orleans, and beyond.
What is the advantage of your website over others?
Our website looks professional and the work speaks for itself.
Tell us a story about this website.
Our Sandvox website lets the world know that we have art available. Our custom murals are painted on canvas, in our studio, and can be shipped anywhere in the world.
Why did you use this Sandvox design?
We chose Night Breeze because the black background makes our work "pop", and the structure of the page had a desirable format.
---
---
www.SandvoxSites.com/463