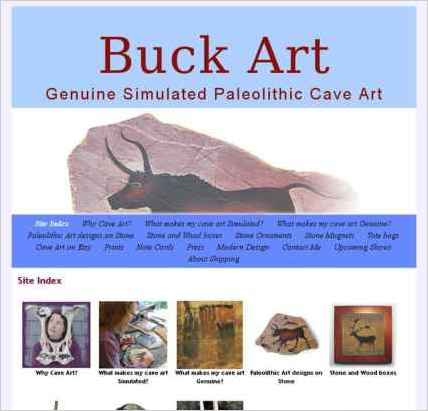 Sandvox was the choice for C. Buck Reynolds to build her website for Buck Art. She chose the "Dolphin Dance" design for the site. People may want to visit the site if they are looking for stone paintings and European cave art.
Sandvox features used for this site:Photo Grid, Site Map, Contact Form, Other Objects, Editing HTML of text, Raw HTML Object, Google Integration
Visit Genuine Simulated Paleolithic Cave Art »
---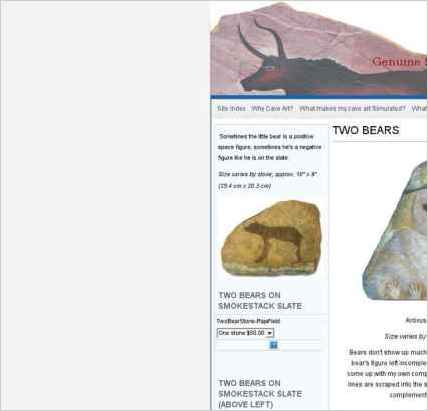 Describe your website.
My web site's mission is to promote my primitive art and rock art appreciation. I have pages that show how my art is like paleolithic cave art (the genuine part) and why it is not (the simulated part).
Who is the target audience for your website?
I like to think that my art and website appeal to a lot of people (I've always thought of myself as an artist, not an Artist). It definitely strikes a cord with people who like cave art and petroglyphs, not only from France and Spain, but from the U.S. southwest, south and Saharan Africa, and Australia. My art also finds appreciation with animal lovers, hunters, fishers, and nature lovers who like to bring a piece of nature in to their homes. I'm hoping my web site will appeal to people worldwide, of all ages, who will find it informative, entertaining, and raise appreciation for primitive art.
Why did you use this Sandvox design?
I went through about a half dozen different designs as I was building my website. I finally settled on "Clean Sheets" because it was a simple clean design that let my art stand forward. My primitive art is all earth tones, so any color bars or boxes might look great on one page, but not another. I wanted really simple pages, and Clean Sheets is really clean.
What techniques did you use to build this website?
I used raw html pagelets a lot for all of my art. Setting up a button in Paypal for each individual type of art was tedious, but being able to insert the html pagelet for the button code so easily under each painting was so easy, I couldn't believe how quickly and smoothly each page set up. I found the trick with Paypal buttons was to make a master button, save it, and then use the "create a button based on an existing button" link.
---
---
www.SandvoxSites.com/385