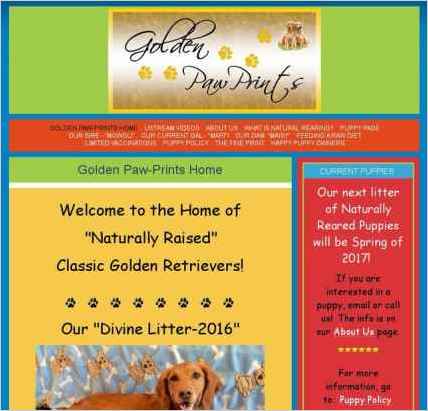 Sandvox was the choice for Ellen Welk to build her website. She chose the "Simply Colorful" design for the site. People may want to visit the site if they are looking for Golden Retrievers.
Sandvox features used for this site:Blog, External Page, Photo Grid, Custom Collection Index, Site Map, YouTube, QuickTime Audio/Video, RSS Feed Object, Other Objects, Editing HTML of text, Raw HTML Object, Google Integration
---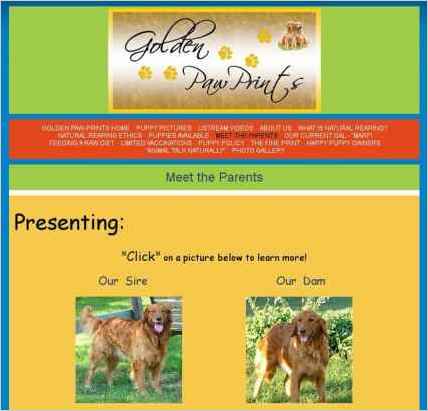 Describe your website.
I love dogs, especially Golden Retriever dogs and puppies! We have a male, "Mowgli" and a female, "Maisy". We just had another litter of TEN puppies on April 16, 2009! My husband and I are raising them in our sun room... who needs a dining room table anyway! This is important because they are handled daily and are exposed to all of the many sounds of everyday life in a household. We have one litter a year and put every effort into the care and foundational training of these puppy infant babies. We believe that a high quality pet comes from healthy genetics and a solid, positive and encouraging environment during their first weeks (and months) of life.
I am working on my website: www.golden-pawprints.com where you can find out more! Please be patient with my web construction... visit often... things are changing very rapidly! And the puppies are growing very fast!
Who is the target audience for your website?
Any family or single person who is looking for a quality dog from home raised healthy parents.
What is the advantage of your website over others?
My website offers a lot of information about the history of my two Golden Retrievers. It provides a clear explanation of who we are as breeders and what we believe about raising dogs. My site is full of pictures and has a wonderful story about some of our history.
Tell us a story about this website.
I have had so many wonderful comments on my site... thanks to you at Sandvox! I even had an art school college admissions officer view my site to see my dogs and puppies. He was so impressed with the design and the great layout that he said I might not even need the web design courses for the Graphic Design degree, or that at least I could use this super already existing site for college credit! Yes, he said that it was that good!!
Why did you use this Sandvox design?
The design I am using caught my attention because of the bright colors. It provides an incredible contrast to the images and makes it all very easy to read with a very upbeat feel! I love color!!
What techniques did you use to build this website?
I just wanted a flow to show off my gorgeous Golden Retrievers and to promote these beautiful precious puppies! It has been a wonderful experience and I have really enjoyed learning about how a website goes together. For me, it was just a natural thing to follow the site outline in progression with my subject outline. I emphasized the "goodies" of the YouTube videos and my Scrapblog link. People love that multi-media stuff!
---
---
www.SandvoxSites.com/364