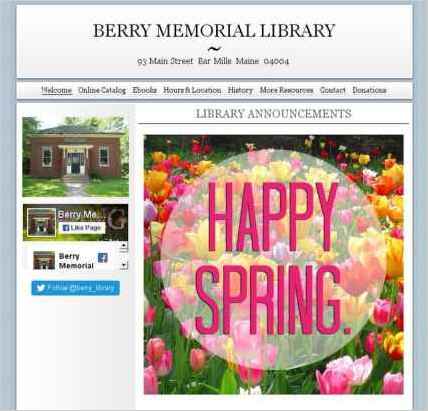 Sandvox was the choice for Brian Emerson to build his website. He chose the "Neo News" design for the site. People may want to visit the site if they are looking for Buxton Maine library.
Sandvox features used for this site:Blog, Site Map, Contact Form, RSS Feed Object, Other Objects, Editing HTML of text, Raw HTML Object, Google Integration
Visit Berry Memorial Library »
---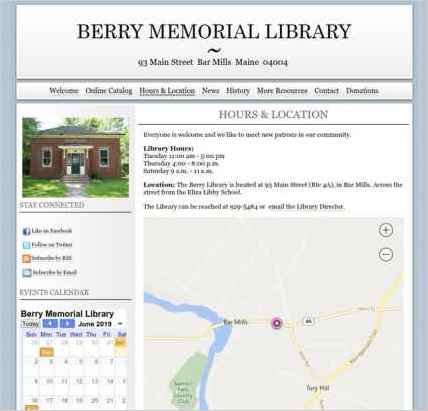 Describe your website.
The Berry Memorial Library website contains the hours and location of the library, some of the historical books available, the upcoming programs, and a brief history of the library.
Who is the target audience for your website?
The Berry Memorial Library website informs the citizens of Buxton, Maine and York County about the hours & location, services, and goals of the library.
Tell us a story about this website.
We've done a few things to get this little old library back into the town spotlight, the website is one of the big things. The library has been featured in several news stories and the site has received many visits, more than I expected. The people in town have been very supportive and seem excited about the changes.
Why did you use this Sandvox design?
I chose this design because it is simple and uncluttered. I looked at many library websites while working on this one, most have multiple columns filled with information. Walls of text in my mind. I believe when people visit the Berry Memorial Library site, the information that they are looking for is simple to find and not overwhelming. I feel that the books should be in the library, not on the site.
What techniques did you use to build this website?
I'm not a designer or coder, I'm more of a marketing guy. The stuff I did was pretty basic, I started with a template, added pages and pagelets, and a little bit of html for a Google map of the location.
---
---
www.SandvoxSites.com/232