To build "Dean Zatkowsky" for Dizzy One Ventures, LLC, Dean Zatkowsky chose Sandvox. He chose the "Blueball Simplex Dusk" design for the site. People may want to visit the site if they are looking for freelance writer and photographer.
---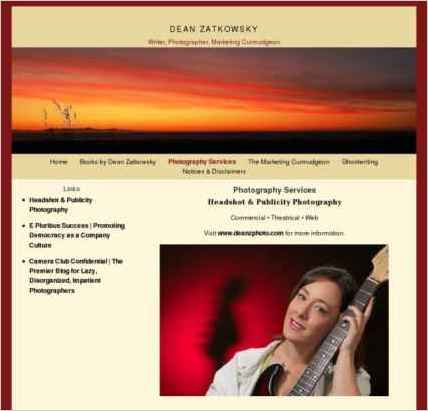 Describe your website.
After a long career as a marketing executive, I launched Dizzy One Ventures to offer writing, ghostwriting, photography, and consulting services.
The website provides an overview of my books and access to my blogs on organizational democracy and photography.
Who is the target audience for your website?
My writing and consulting service targets business owners and executives. They often hire marketing consultants, but what they really need is a marketing curmudgeon - someone willing to ask tough questions and experienced enough to reject delusional answers.
My photography services deliver compelling images to actors, executives, and publicists that need to get noticed by casting agents, web surfers, and editors.
What is the advantage of your website over others?
The common thread linking my writing, photography and consultation services is candor. People work with me because they value frankness - and these are the people with greatest potential for success in the first place.
Why did you use this Sandvox design?
This is a bit embarrassing, but the photos I wanted to use featured people looking to the left. So I grabbed the first design with a sidebar on the left. Fortunately, it's a nice design.
---
---
www.SandvoxSites.com/1440