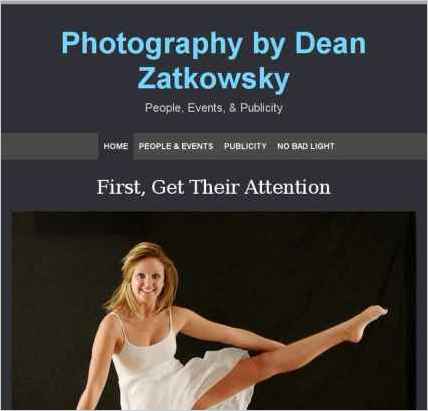 Sandvox was the choice for Dean Zatkowsky to build his website for Dizzy One Ventures, LLC. He chose the "Outside the Lines Blue" design for the site. People may want to visit the site if they are looking for actors headshots.
Sandvox features used for this site:Photo Grid
Visit Photography by Dean Zatkowsky »
---
Describe your website.
I specialize in headshots and publicity photography for actors, executives, companies, and NPOs.
Visitors to the site can view a gallery of headshots and portrait samples, as well as a gallery of publicity samples. The site also features links to my fun photo blog.
Who is the target audience for your website?
Actors, executives and publicists in Ventura County comprise the primary audience for my services.
What is the advantage of your website over others?
Site visitors from Ventura County will notice that they have seen my photographs and byline in the local papers nearly every week, even though I do not work for any of the local papers.
Actors, executives and publicists choose me for their photography needs because my photos get noticed and published.
Why did you use this Sandvox design?
I work hard to give my photographs a three-dimensional feeling, and I liked this design because it imparts a subtle sense of dimensionality as well.
---
---
www.SandvoxSites.com/1441