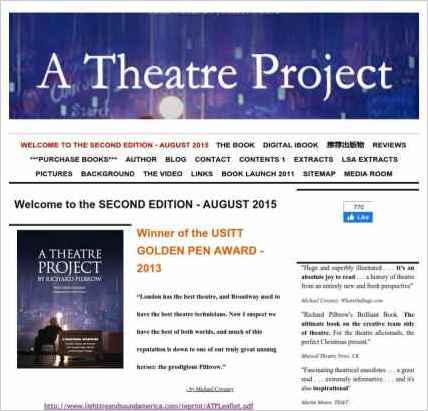 Richard Pilbrow used Sandvox to build this website. He chose the "Distinction Red" design for the site. People may want to visit the site if they are looking for theatre career in lighting, sound or theatre design consulting.
Sandvox features used for this site:Blog, External Page, Photo Grid, Custom Collection Index, Site Map, Contact Form, Amazon.com, YouTube, Google Integration
---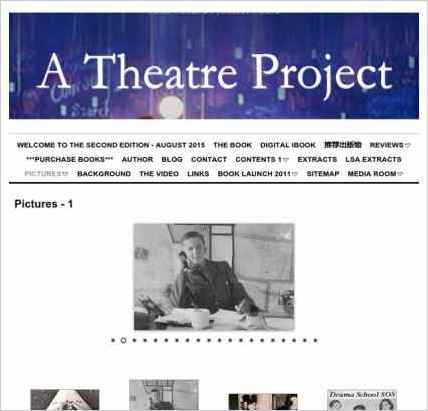 Describe your website.
my website is designed to promote Richard Pilbrow's new book A THEATRE PROJECT. This is the story of an upstart company, Theatre Projects, in the world of British Theatre that created the stage lighting and sound design professions and revolutionized theatre lighting, sound and technology, then went on to become, today, the world's leading theatre design consultancy. Along the way, Theatre Projects became a West End producer and one of Europe's largest lighting, sound, and AV suppliers. Reckless over-expansion led to disaster. A gripping tale of the rise, fall, and re-emergence of an artistically-motivated enterprise in the theatre. Six decades that changed stage lighting, sound, and theatre technology, and transformed the shape of theatre space around the world. My goal is to attract readers who want to learn about the thrills, successes and pitfalls of a life in theatre and the performing arts.
Who is the target audience for your website?
I hope to interest all those interested in theatre and the performing arts, particularly those working in lighting, sound or theatre architecture and design, and those interested in a career in these fields.
What is the advantage of your website over others?
This is a book that describes an unusual, almost unique, company that has succeeded for over five decades. It also tells a very personal tale of success, disaster and renewal against many odds.
The website supplements the book with many special photographs and additional material that will, I hope, develop over the coming months.
A blog welcomes comment and further recollection from many people who, over the years, have been part of Theatre Projects
Tell us a story about this website.
Too early to tell yet. I enjoyed developing it and hope it will be an on-going adventure.
Why did you use this Sandvox design?
I like it's simplicity and cleanness.
---
---
www.SandvoxSites.com/1289