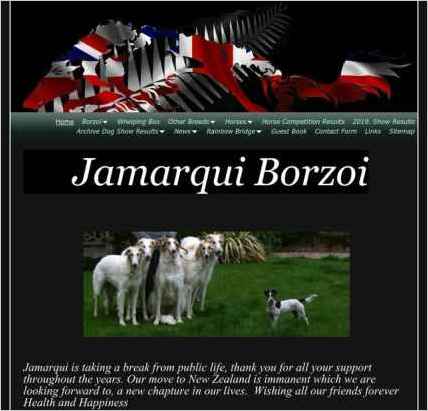 To build "Jamarqui Rare Breeds," Alma Oakley-Abrahams chose Sandvox. She chose the "Night Breeze" design for the site. People may want to visit the site if they are looking for borzoi breeders, puppies, andalusian horses.
Sandvox features used for this site:Blog, Photo Grid, Site Map, Contact Form, Other Objects
---
Describe your website.
The website is a promotional site for my kennel, informing visitors of our success and any litters we have planned. Also they can see photos and read the blog on what is happening down our way.
Who is the target audience for your website?
People interested in dogs and horses.
What is the advantage of your website over others?
My kennel is known worldwide, my puppies are sold all over the world, this is the advantage over others. Also having a professional fabulous looking site is also worth its weight in gold.
Why did you use this Sandvox design?
I wanted something classy, sophisticated and smart, which the template I feel is, it enables the reader to see the content clearly.
---
---
www.SandvoxSites.com/1521