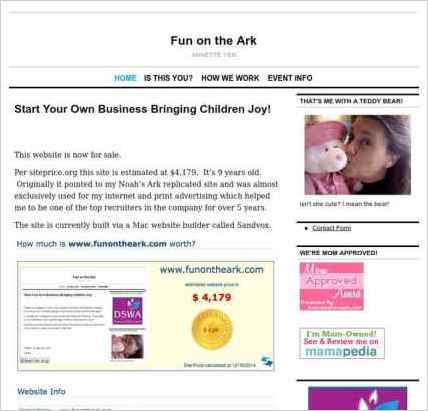 Annette Yen used Sandvox to build this website. She chose the "Distinction Blue" design for the site.
Fun On The Ark with Noah's Ark Workshop
(Website is no longer listed here.)
Sandvox features used for this site:Blog, External Page, Custom Collection Index, Site Map, Contact Form, Other Objects, Editing HTML of text, Raw HTML Object, Code Injection, Google Integration
Visit Fun On The Ark with Noah's Ark Workshop »
---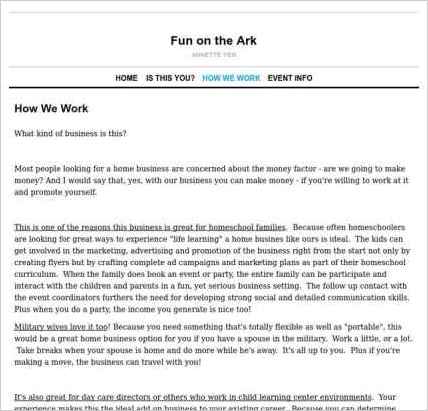 Describe your website.
I built FunOnTheArk.com as a way to tell people more about our home business with Noah's Ark Workshop. Since we're a family home business that is geared toward stay at home moms and perfect for homeschoolers I needed a separate site on the web where I could give potential business owners information about the business and the birthday parties we offer.
Who is the target audience for your website?
The target market for our Fun on the Ark with Noah's Ark workshop business is stay at home moms who are looking for a small business from home. In particular we are perfect for homeschooling moms, teachers, preschool teachers as well as current children's party entertainment providers.
Why did you use this Sandvox design?
I chose the design mostly because it matched the header that I had designed and the color scheme looked the best with what I wanted to do. It looks great!
---
---
www.SandvoxSites.com/95