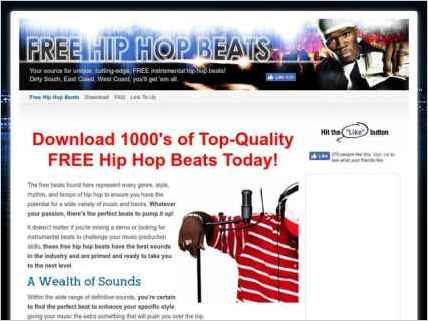 Sandvox was the choice for Steve Heap to build his website. He chose the "Blueball First Class Blue" design for the site. People may want to visit the site if they are looking for Free Hip Hop Beats.
Sandvox features used for this site:Custom Collection Index, Site Map, Contact Form, Other Objects, Editing HTML of text, Raw HTML Object, Code Injection, Google Integration
---
Describe your website.
Free Hip Hop Beats website was created for the purpose of distributing free beats to aspiring hip hop artists around the globe with the goal to help inspire and give artists a creative outlet through music.
Who is the target audience for your website?
Fans of hip hop and aspiring rappers around the globe.
What is the advantage of your website over others?
Content is clearly displayed without clutter or annoying ads and the information is readily available.
Why did you use this Sandvox design?
I chose this design for both the color scheme, clean layout and the ability to control the display of my content including being able to customize the site header.
What techniques did you use to build this website?
I was able to incorporate some javascript that allowed me to pull in and convert flash audio so that it would render as javascript and be playable on mobile devices like iPhones and iPads.
---
---
www.SandvoxSites.com/1525