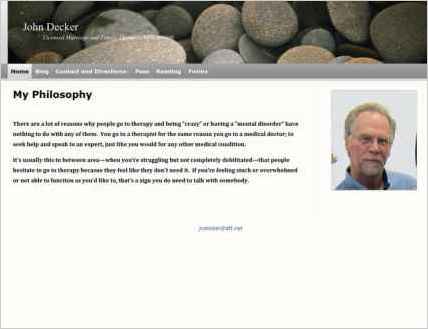 John Decker used Sandvox to build this website. He chose the "KS Big Time Grey" design for the site. People may want to visit the site if they are looking for couseling services for veterans, families, children or couples.
Sandvox features used for this site:External Page, Photo Grid, Contact Form, Editing HTML of text, Raw HTML Object, Google Integration
Visit Marriage and Family Therapy »
---
Who is the target audience for your website?
Clients that need therapy but can't pay the full price for sessions. Veterans and Families of returning veterans. Couples with relationship problems. Parents with difficult or troubled children. Mothers with abusive partners who need support for life's problems.
What is the advantage of your website over others?
Great Counseling at reduced rates.
What techniques did you use to build this website?
I am still learning so there is not a lot to share. I am thinking about buying your tutorial for added help.
---
---
www.SandvoxSites.com/1511