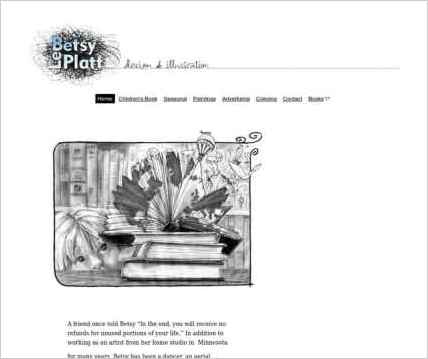 Sandvox was the choice for Betsy LePlatt to build her website. She chose the "Black & White" design for the site.
Betsy LePlatt Design & Illustration
(Website is no longer listed here.)
Sandvox features used for this site:Contact Form, Amazon.com, Google Integration
Visit Betsy LePlatt Design & Illustration »
--- Describe your website.
My web site showcases my illustrations for children's booklass="nofollow" rel="nofollow" href="http://www.BetsyLePlatt.com/books/">books and for licensing. It also includes information about presentations and book signings as well as providing some activities for children.
Who is the target audience for your website?
My primary audience includes editors at publishing houses, children and art buyers.
What is the advantage of your website over others?
I hope my website sparks viewer's imaginations!
Tell us a story about this website.
I look forward to having a good story to fill in here!
Why did you use this Sandvox design?
I chose the design I did because it is very clean and light. I wanted the artwork to stand out, not the design of the background.
---
---
www.SandvoxSites.com/1372