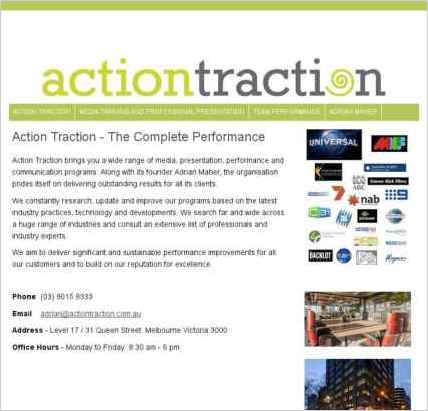 Sandvox was the choice for Adrian Maher to build his website. He chose the "Earth & Sky" design for the site. People may want to visit the site if they are looking for career coaching, relationship coaching, life coaching.
Sandvox features used for this site:External Page, Photo Grid, Contact Form, Editing HTML of text, Code Injection, Google Integration
---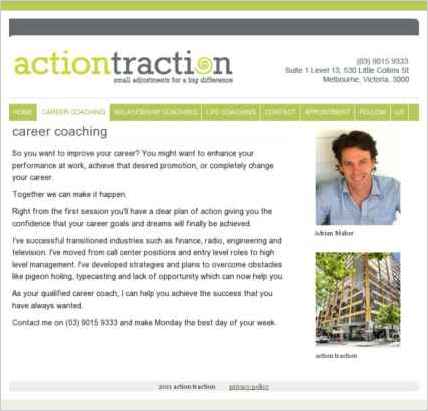 Describe your website.
Are you ready to move your career in the right direction? Then contact me for a great career coaching service.
Do you want your relationship to feel like it did at the start? Then contact me for a great relationship coaching service.
Is life feeling like it's just all too hard at the moment? Then contact me for a great life coaching service.
Then contact Adrian Maher at actiontraction.com.au
Who is the target audience for your website?
Career minded people working in the Melbourne CBD aged between 25 and 55.
What is the advantage of your website over others?
Action Traction offers its clients a highly personalised service that focuses on their strengths and natural abilities. We help them identify their dreams and passions and then help them achieve them with a clear and concise strategy.
Tell us a story about this website.
I was handing out a free action traction flyer at the train station and a man took one. Later that day he called me and we met up the next week. A month later he achieved a new promotion to a position he never thought he would be successful. At our last session he told me that on the morning he received my flyer, he was walking to work with his resignation letter. Life could have been so different.
Why did you use this Sandvox design?
I chose it because it was simple and gave me the option to put in my own banner. It had very similar colours to my logo and combined with the addition of my banner at the top, looks very much inline with all of my other promotional material.
What techniques did you use to build this website?
If you want to make the template match your website, then utilise the banner option to add a nice wide banner that you can design in another program like photoshop, illustrator etc.
This way you can mimic your current look and feel on your website.
---
---
www.SandvoxSites.com/1489