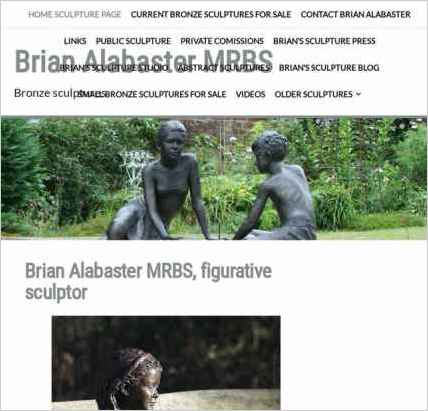 To build "Brian Alabaster Sculptor" for brian alabaster ltd, Brian Alabaster chose Sandvox. He chose the "Blueball Slider Gray" design for the site. People may want to visit the site if they are looking for Commission portrait sculptures.
Sandvox features used for this site:Photo Grid, Site Map, YouTube, QuickTime Audio/Video, Raw HTML Object, Code Injection, Google Integration
Visit Brian Alabaster Sculptor »
---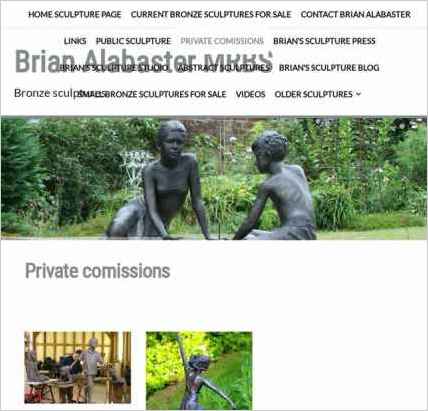 Describe your website.
Brian Alabaster is a member of the Royal Society of British Sculptors and an established artist with an international reputation. His talent is capturing the relaxed natural poses of his models in his work. These sit perfectly in any garden situation. All work is cast in signed editions. Commissions can be undertaken for clients.
Some figures incorporate running water, which adds life and vitality to the sculptures. Recent work includes dynamic moving images of children at play. These are expressed appropriately by casting into the enduring traditional material, bronze.
Brian models in clay from life. This clay is reproduced by the ancient lost wax casting technique in a limited edition in bronze.
Brian's work can be viewed in his garden display at the Chelsea Flower Show and by appointment at his Suffolk studio. Security for garden sculptures may be a concern. All the pieces can be fitted with hidden secure fixings to suit the site and sculpture.Brian Alabaster has his current catalogue of private sculpture commissions as well as public sculpture commissions. His figurative work is shown as well as his abstract sculptures. Details of modelling bronze casting and his suffolk studio are all shown.
Who is the target audience for your website?
Families with children and gardens who can afford to have their children immortalised as sculptures. People with gardens and a love of art and figurative sculpture.
most clients are 40 plus professionals.
Why did you use this Sandvox design?
The clear clean line and black background provides the perfect foil to images of my sculptures. The clever gallery system gives easy navigation around the site
---
---
www.SandvoxSites.com/1407