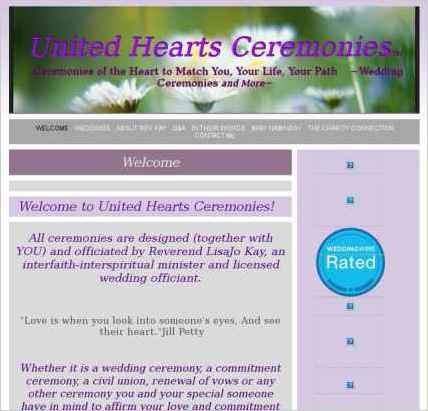 Lisa Bernstein Kay used Sandvox to build this website. She chose the "Simply Purple" design for the site.
United Hearts Ceremonies
(Website is no longer listed here.)
Sandvox features used for this site:External Page, Site Map, Contact Form, Other Objects, Raw HTML Object, Google Integration
Visit United Hearts Ceremonies »
---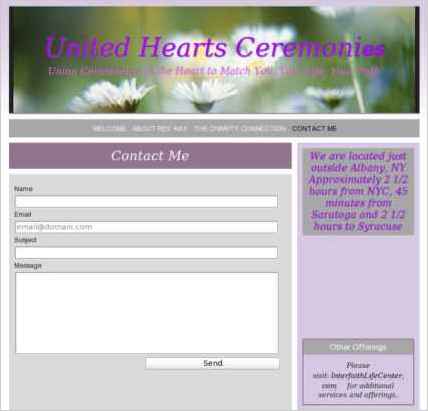 Describe your website.
My website is designed with the title: United Hearts Ceremony and that I am a licensed wedding officiant and interfaith minister. I conduct personalized ceremonies for all paths and of all types: interfaith, religious, civil, traditional, alternative, same-sex (gay/lesbian). I have an About me (Rev. Kay) page and a Contact me page. I also have a charity connection page where I describe that I give a portion of my fees for services to a charity, cause or organization.
Who is the target audience for your website?
My audience includes couples of all ages, cultures, regions (or none) and sexual orientations looking for someone to officiate their wedding within New York state and beyond.
Couples that want a personalized approach to creating the most meaningful ceremony that reflects the individuals joining together in marriage (or other way)
What is the advantage of your website over others?
The advantage of my sight is clarity, uniqueness of style, approach to wedding ceremony development and background of me, the officiant.
Tell us a story about this website.
Two things that happened recently when I met with a prospective couple. When I asked how they found me, the groom said- "it was purple" (my primary color) and that in my about me I was more than an officiant, I have a background in special education and speech-language pathology.
Why did you use this Sandvox design?
I chose my current design because it is appealing, calming and inviting without being over the top. I feel it would appeal to the largest range of potential clients.
What techniques did you use to build this website?
I used the link feature for some of the organizations I listed and a website link for a picture O was given permission to use,
---
---
www.SandvoxSites.com/1412