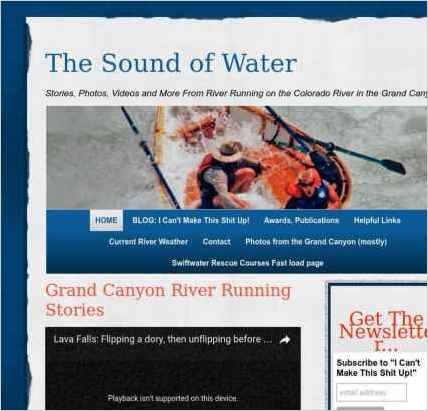 To build "River God," Jeffe Aronson chose Sandvox. He chose the "Outside the Lines Blue" design for the site. People may want to visit the site if they are looking for Grand Canyon rafting, adventure stories, memoirs, whitewater vid.
Sandvox features used for this site:Blog, Photo Grid, Custom Collection Index, Contact Form, YouTube, QuickTime Audio/Video, RSS Feed Object, Other Objects
---
Describe your website.
Stories, videos and photos of a life of river guiding, plus writings of having cancer, taking care of elderly parents, and other life adventures.
Who is the target audience for your website?
Jewish people, armchair adventurers, Grand Canyon and river running enthusiasts, adventure story lovers, and people interested in different lifestyles.
What is the advantage of your website over others?
There is no other site like it, featuring river running, a life of living on the edge, and great stories and photographs about the Grand Canyon and more.
---
---
www.SandvoxSites.com/1410