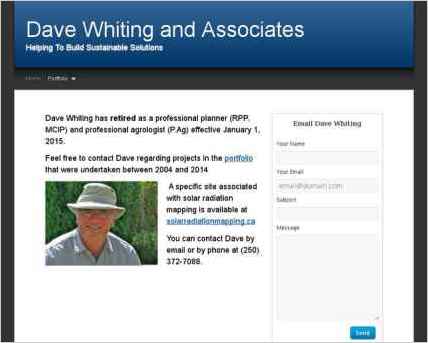 To build "Dave Whiting and Associates," David Whiting chose Sandvox. He chose the "Carbone Dark Blue" design for the site. People may want to visit the site if they are looking for consulting planners and agrologists.
Sandvox features used for this site:External Page, Photo Grid, Site Map, Contact Form, YouTube, Raw HTML Object
Visit Dave Whiting and Associates »
---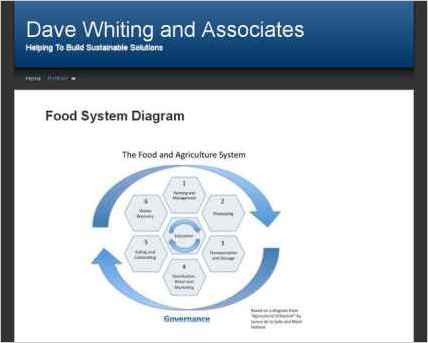 Describe your website.
Who is the target audience for your website?
My website should be of interest to local governments, provincial and federal agencies, community development organizations, food and agriculture organizations who are fostering sustainable communities.
What is the advantage of your website over others?
Many of my competitors (other consulting planners and agrologists) do not have websites unless they are large consulting firms.
Tell us a story about this website.
I am now being asked to design and build websites for some of my professional colleagues.
Why did you use this Sandvox design?
It looked professional and displayed well the type of images and text that I was using.
What techniques did you use to build this website?
I found the Google Chrome browser worked best when copying and pasting html from Google Maps when making a "mashup".
---
---
www.SandvoxSites.com/1380