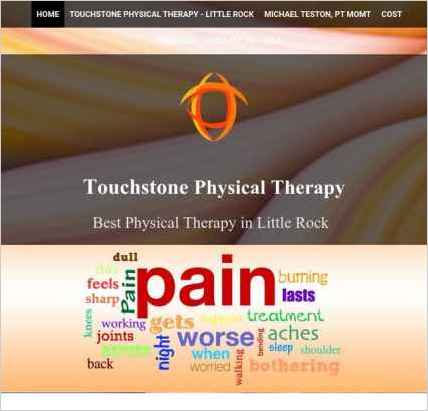 Sandvox was the choice for Alicia Teston to build her website. She chose the "Blueball Apex Black" design for the site. People may want to visit the site if they are looking for physical therapy in little rock.
Visit Touchstone Physical Therapy »
---
Describe your website.
Touchstone Physical Therapy is a physical therapist owned, independent, outpatient therapy clinic located in Breckenridge Village off of Rodney Parham Road in Little Rock, Arkansas. Michael Teston, Pt MOMT.
Who is the target audience for your website?
Injured persons in the Central Arkansas area that need physical therapy. People with back, shoulder, neck, knee pain. Rehabilitation after knee surgery. Little Rock, Arkansas area.
Why did you use this Sandvox design?
I liked the color and the placement of the title.
---
---
www.SandvoxSites.com/1078