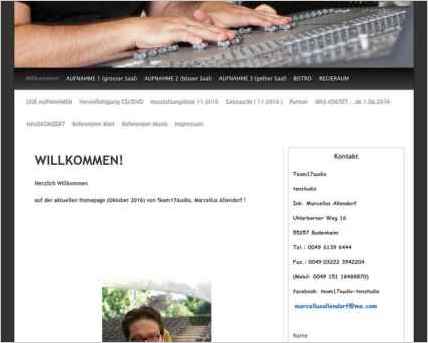 Sandvox was the choice for Marcellus Allendorf to build his website. He chose the "Carbone Right Sidebar" design for the site. People may want to visit the site if they are looking for recording studio, Mp3-shop.
Sandvox features used for this site:External Page, Photo Grid, Site Map, Contact Form, Other Objects, Code Injection, Google Integration
---
He entered his answers in German.
Describe your website.
Team17Audio, Marcellus Allendorf makes professional recordings, Mixing and Mastering. Restoration of any audio material.
Who is the target audience for your website?
My website gives all the information musicians need to make the first decision to contact me, drinking a cup of coffee here in my studio and thinking about how to record their next CD-album.
What is the advantage of your website over others?
You should use my site to get the first info and the actual news about my mp3-shop.
Why did you use this Sandvox design?
It´s modern, simple, and clear. No one have to ask:
How do i come back to the welcome-site.
---
---
www.SandvoxSites.com/1267