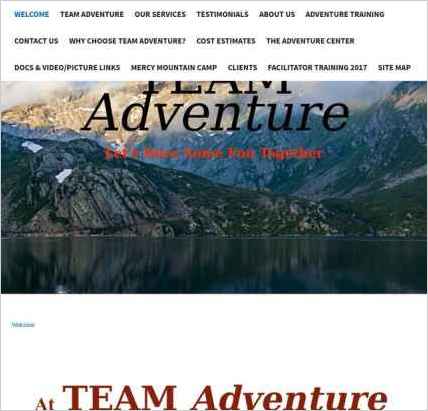 Thomas Gardner used Sandvox to build this website. He chose the "Blueball Flexor Blue" design for the site. People may want to visit the site if they are looking for ropes course and adventure learning in Central New York.
Sandvox features used for this site:External Page, Photo Grid, Site Map, Contact Form, YouTube, QuickTime Audio/Video, Other Objects
---
Describe your website.
The goal of Team Adventure is to provide excellence in Adventure Learning, dynamic team-building programs, and educational ropes course programs. We run the challenge course at Adams Eden Camp in LaFayette, NY and do group dynamics workshops at the Adventure Center in Liverpool, NY. We also will come to your site and provide programs with our professional staff and our portable initiatives.
Who is the target audience for your website?
We service corporate and small business groups, colleges, school groups, youth groups, boy scouts, girl scout for challenge courses, experiential learning, and team-building workshops.
What is the advantage of your website over others?
Our website provides action photos, links to previous client photos, client testimonials and a detailed description of the services we offer.
Tell us a story about this website.
I got a call from a school in Boston who just found my website while searching the web. They came all the way to Central New York for a challenge course program with 50 of their students.
Why did you use this Sandvox design?
The design had a outdoors appeal.
---
---
www.SandvoxSites.com/1262