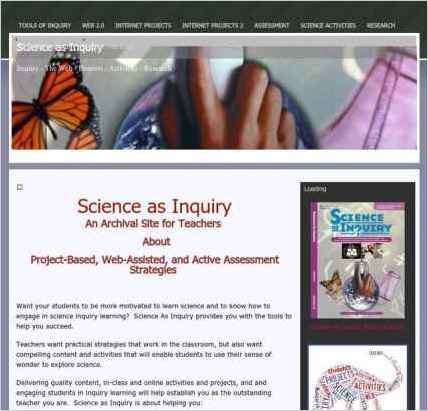 Jack Hassard used Sandvox to build this website. He chose the "Galaxy Lilac" design for the site. People may want to visit the site if they are looking for science teaching resources.
Sandvox features used for this site:Blog, External Page, Custom Collection Index, Site Map, Contact Form, Amazon.com, YouTube, RSS Feed Object, Other Objects, Raw HTML Object
---
Describe your website.
Who is the target audience for your website?
People interested in my site will include teachers of science, grades 6 - 12, as well as their students. It should also be of interest to college professors who teach science education courses for prospective science teachers, and graduate students in science teacher education programs. It should also interest science education researchers.
What is the advantage of your website over others?
Science As Inquiry promotes an inquiry and humanistic paradigm of science teaching, and challenges the current trend the current status quo in which "bubble" tests are used to measure success in science. Science As Inquiry provides practical tools for learning that teachers can use to heighten motivation of students, and interest in science.
Tell us a story about this website.
One of my first Sandvox sites was a project for teachers to use with their students to learn about the utter destruction that was wrought by Hurricane Katrina. Developed right after Hurricane Katrina, thousands of teachers around the world have visited the site and made use of the resources to help their students understand hurricanes, and how government (should) play a role in helping hurricane victims.
Why did you use this Sandvox design?
I've used a variety of Sandvox designs, but recently purchased several Blueball Sandvox designs, and for this site I am using Blueball Gravitas Purple. It's navigation bar makes viewing and using the site very easy.
---
---
www.SandvoxSites.com/1253