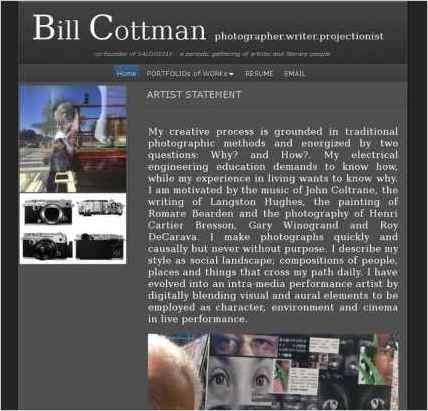 William Cottman used Sandvox to build this website. He chose the "Smooth Dark" design for the site. People may want to visit the site if they are looking for West African dance and drumming.
Sandvox features used for this site:Site Map, Contact Form, Other Objects, Google Integration
---
Describe your website.
We are an African American family of artists: a storyteller, a dancer, choreographer, drummer and a photographer. Our work explores and presents ways of knowing West African and African American heritage and culture.
Who is the target audience for your website?
SALON1016 is a periodic gathering of artistic and literary people living and creating in the Twin Cities of Minneapolis and St Paul. We have collaborative relationships with colleagues in Chicago, New York, Dakar, Banjul, Accra and Paris.
Why did you use this Sandvox design?
I chose the Smooth Dark design because it matched best the existing design of our website. The Smooth Dark design serves as a container for our work and does not call attention to itself; the same style I use when framing my photographs.
What techniques did you use to build this website?
I am a Sandvox beginner and wanted to quickly create a basic website and learn the program work flow at the same time. Mission accomplished! Now I plan to add "refinements and specials" with my bi-monthly updates.
---
---
www.SandvoxSites.com/1088