Alistair Forrest used Sandvox to build this website. He chose the "Blueball Simplex Blue" design for the site. People may want to visit the site if they are looking for New historical fiction.
Sandvox features used for this site:Blog, Contact Form, Amazon.com, Other Objects
Visit Alistair Forrest - History's treasure brought to life »
---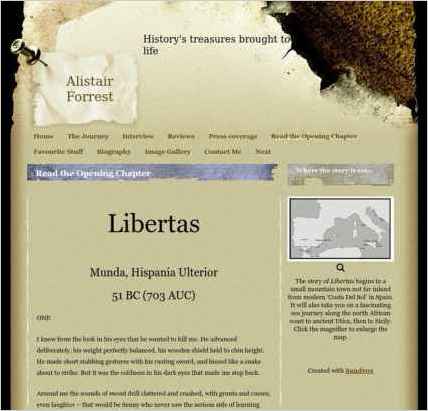 Describe your website.
The home page begins with comments on the book by the UK Parliamentarian Sir Patrick Cormack and a best-selling author, Doug Jackson.It also provides links Amazon and The Book Depository, and welcomes visitors with a short introduction. The Journey tells how I came to the point of writing my first novel and About Libertas reveals the historical setting for the story. There's a Reviews page where people from all walks of life give their opinion, and an opportunity to Read The Opening Chapter. My Writer's Blog tells the story from the point of acceptance by the publisher, Quaestor2000, and there are pages offering an Image Gallery, my Favorite Stuff (links), my Biography and the Contact Me form. There's also a page about my wife's business, The Menopausal Gardener. These are all designed to be informative about the book and my writing career.
Who is the target audience for your website?
The target audience is people who love historical fiction, anywhere in the world.
Tell us a story about this website.
My first radio interview about my book was on Radio Europa Mediterraneo (REM FM) and the host of The Book Show had obviously browsed my website. The very first question she asked referred to an obscure book I wrote 25 years ago, which was mentioned somewhere on the site. So I was not only unprepared, I wasted a couple of minutes valuable airtime explaining why I wrote a book for professional photographers!
Why did you use this Sandvox design?
The design I chose looks 'ancient' and gives visitors the feeling that I might just know my stuff.
---
---
www.SandvoxSites.com/71