Agner Ebild used Sandvox to build this website. He chose the "Clean Sheets" design for the site. People may want to visit the site if they are looking for Christians.
Sandvox features used for this site:External Page, Site Map, Google Integration
---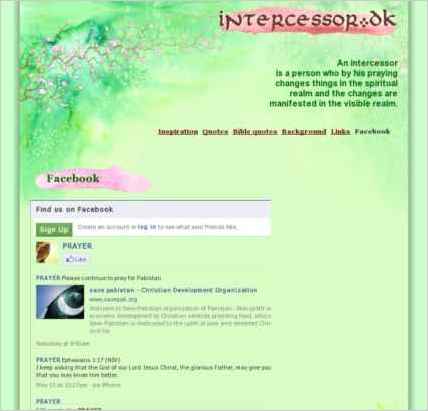 Describe your website.
The aim of the site is to
1) Promote christian prayer.
2)Link it with
http://www.facebook.com/Prayer2Jesus
3) To serve end encourage praying people.
Who is the target audience for your website?
Christians all over the world (English speaking).
Tell us a story about this website.
Mother: "Thank you for praying for my baby daughter with a brain cancer. The doctors gave her 3 week to live. She is still alive and has learned to walk and talk....no one can explain, why she is alive."
Why did you use this Sandvox design?
Expresses newness, growth, spring, and vitality.
---
---
www.SandvoxSites.com/1226