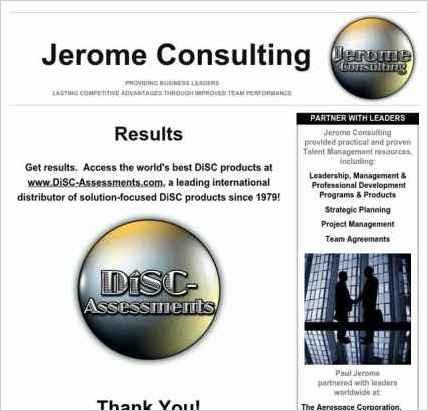 Paul Jerome used Sandvox to build this website for Jerome Consulting. He chose the "Distinction Red" design for the site. People may want to visit the site if they are looking for Leadership/Management Training & Talent Development Resources.
Sandvox features used for this site:External Page, Photo Grid, Custom Collection Index, Site Map, Contact Form, Amazon.com, RSS Feed Object, Other Objects, Editing HTML of text, Code Injection, Google Integration
---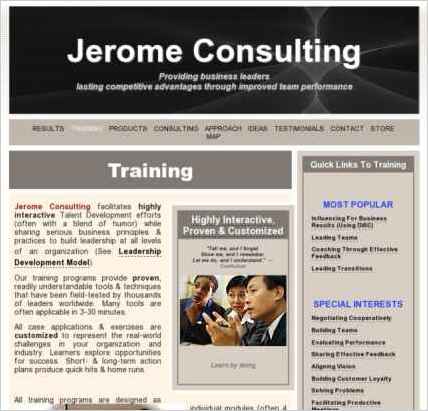 Describe your website.
Jerome Consulting provides practical & proven Talent Development resources to improve the performance of your work teams & your organization. Our Training, Products, Consulting, Approach, and Ideas give our clients lasting competitive advantages, such as...
Aligned Strategic Direction
Advanced Competencies & Accountability
Enhanced Customer Services & Loyalty
Increased Retention Of Top Talent
Improved Processes & Cost Containment
Sustained Financial Success
Who is the target audience for your website?
Business leaders (first-line supervisors to executives).
Directors & VP's of Human Resources.
Directors & VP's of Talent Management/Development.
Project leaders.
Mid to Large Corporations with international offices.
What is the advantage of your website over others?
Jerome Consulting offers many competitive advantages including customized training materials, highly interactive Talent Development programs, strategic approaches linked to company systems, culture & values, and a proven track record of developing leaders worldwide.
Tell us a story about this website.
I added a testimonials page that shares excerpts from full recommendations that I have received on Linked In. Sandvox allows me to link my website to my Linked In profile, as I have on many of my website pages. This has increased visibility and credibility of my business and website.
Why did you use this Sandvox design?
I wanted a formal and professional web design, accessible by corporate leaders who often have advanced degrees and international experience. Design, colors, features, etc., needed to be suitable for a wide variety of industries and countries within which I consult. I preferred a classic, timeless design.
What techniques did you use to build this website?
Many website designs allow you to change quite a bit, including the banner (the face of your website), so don't overlook design choices until you check for this functionality. On my Ideas page, I share my favorite RSS feeds with my clients. I use pagelets in a variety of ways, with/without headers, text, photos, links, using photo pagelets for JPGs of PDF documents, etc. I established a Store page to eventually provide a multitude of links to another secure website (with shopping cart, pay pal, etc.) currently under construction.
---
---
www.SandvoxSites.com/1202