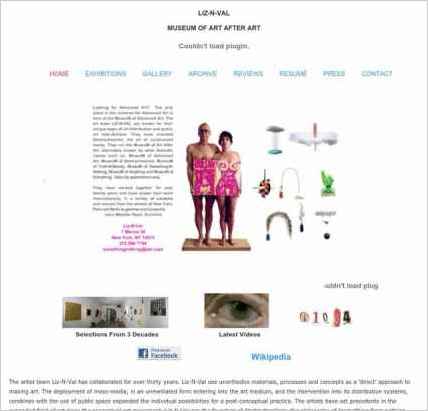 Sandvox was the choice for Elizabeth K. Clark to build her website. She chose the "White Rabbit" design for the site. People may want to visit the site if they are looking for Advanced Art.
Sandvox features used for this site:External Page, Photo Grid, Custom Collection Index, Contact Form, RSS Feed Object, Editing HTML of text, Code Injection, Google Integration
---
Describe your website.
Looking for Advanced Art? The only place in the universe for Advanced Art is here at the Museum of Art After Art. The art team Liz-N-Val are known for their unique ways of art distribution and public art Inter-Actions. They have invented Abstractrealism, the art of constructed reality. They have collaborated for over 30 years
and have shown their work internationally, in a variety of contexts, from the streets of New York to galleries and Museums.
Who is the target audience for your website?
Artists, educators, academics and people interested
in new ideas would be interested in our website.
What is the advantage of your website over others?
Our website has a sense of humor and an artistic look.
Tell us a story about this website.
Our website originated in a health club, because I saw a colorful Ad by a web designer. I got in touch with him and the rest is history.
Why did you use this Sandvox design?
The particular design chosen gave a maximum amount of freedom for what we needed.
What techniques did you use to build this website?
We collected hundreds of images and sifted through them until satisfied. I used the rhythm of a rowing-machine to come up with the texts used in this page.
---
---
www.SandvoxSites.com/1165