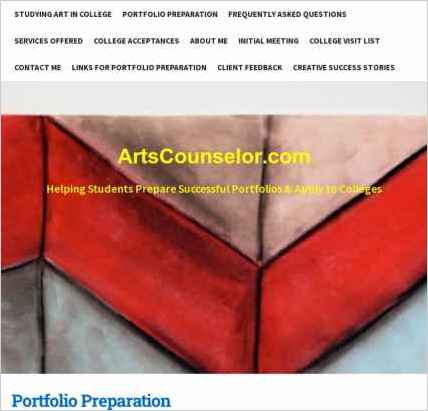 To build "ArtsCounselor.com," Barry Beach chose Sandvox. He chose the "Blueball Flexor Blue" design for the site. People may want to visit the site if they are looking for Portfolio Preparation Services for Artists.
Sandvox features used for this site:Site Map, Code Injection, Google Integration
---
Describe your website.
The site is created for artists beginning to prepare a portfolio to apply to college art programs. Perhaps they are deciding to study art in college; well, there are several links for portfolio preparationrtscounselor.com/portfolio_preparation.html">portfolio preparation listed. I also list client college acceptances to help potential clients know whether I have helped others apply to the colleges they are interested in applying.
Who is the target audience for your website?
A typical website visitor is a high school junior in art class (or their parents) just beginning to worry about college as their senior friends are really sweating bullets about college acceptances. My goal is to turn off the fear by sharing information and planning strategically.
What is the advantage of your website over others?
I know how to prepare a portfolio from several experiences. I used to be director of admissions of Oregon College of Art & Craft and reviewed hundreds of portfolios at national portfolio days around the country. I also attended Rhode Island School of Design and San Francisco Art Institute, so I have firsthand experience assembling my own portfolio. And I continue creating and making my own artwork.
Tell us a story about this website.
My website has definitely helped me network locally. I try to set up links to it regularly to ensure good search engine placement.
Why did you use this Sandvox design?
Clean and basic - I'm a minimalist at heart.
What techniques did you use to build this website?
While I'm a complete HTML newby, I was able to figure out how to match the blue background to my logo. Now - just don't ask me how! But it was pretty simple really.
---
---
www.SandvoxSites.com/1134