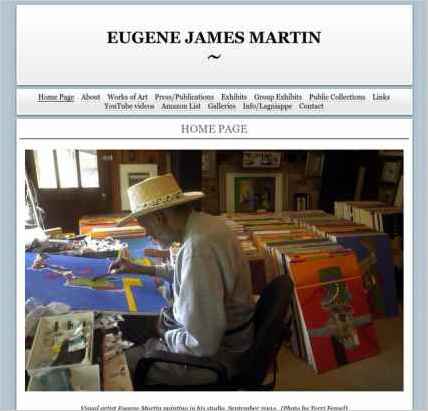 To build "African American Artist Eugene J. Martin," Suzanne Fredericq chose Sandvox. She chose the "Neo News" design for the site.
African American Artist Eugene J. Martin
(Website is no longer listed here.)
Sandvox features used for this site:External Page, Photo Grid, Custom Collection Index, Site Map, Contact Form, Amazon.com, YouTube, QuickTime Audio/Video, Other Objects, Raw HTML Object
Visit African American Artist Eugene J. Martin »
---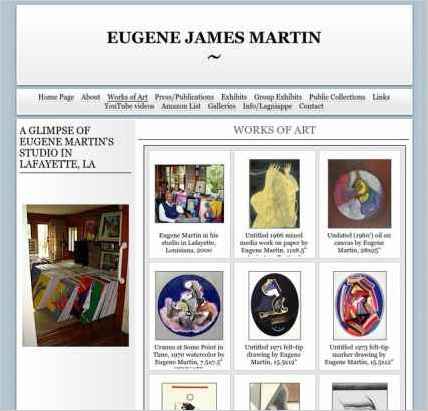 Describe your website.
The Home page of prolific contemporary African American artist Eugene J. Martin (1938-2005) is designed to provide a short biography about his life and works of art; books and cataloges and other press information; upcoming, current and past exhibit shows; public collections housing Eugene Martin art; links to other Eugene Martin websites; tube videos made about E.J. Martin's art; books published by the estate of Eugene James Martin available on Amazon, and Barnes and Noble; information of galleries where Martin's works of art are available, and also contact information. The site highlights mixed media collages on paper, pencil and pen and ink drawings, paintings on paper and canvas, structural imagery among areas of pure, constructed, biomorphic, or disciplined lyrical abstraction. Eugene Martin called many of his works straddling both abstraction and representation satirical abstracts.
Who is the target audience for your website?
The target audience for the Eugene J. Martin website are persons following contemporary art and abstract art in galleries and museums in the United States and worldwide. Also people interested in African American artists from Washington DC, Louisiana, and worldwide.
What is the advantage of your website over others?
This website about the artist Eugene J. Martin is more interactive and includes more links than found in other websites about Eugene Martin.
Tell us a story about this website.
Many visitors like the design of the new website about the prolific artist Eugene Martin as it is an easily accessible and essential reference source about his works of art, press, books, videos, exhibits, museum and galleries shows, interactive links, and contact information.
Why did you use this Sandvox design?
I picked the particular Sandvox design because it goes straight to the point, it is uncluttered and very neat. The website is about the artist Eugene Martin, and this is what the design immediately conveys: an image of the artist working in his art studio.
What techniques did you use to build this website?
I tried to link as much information found on the pages and pagelets with both outside urls and and inside pages.
---
---
www.SandvoxSites.com/1056