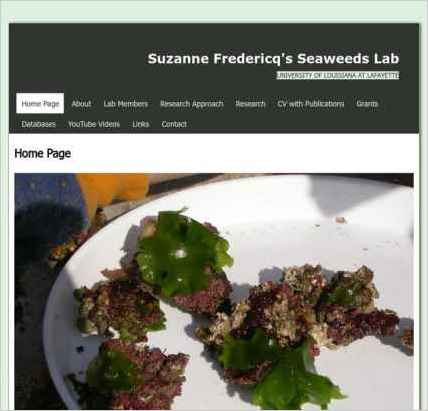 Sandvox was the choice for Suzanne Fredericq to build her website for University of Louisiana at Lafayette. She chose the "Minty Fresh" design for the site. People may want to visit the site if they are looking for seaweeds, marine biodiversity, algae, macroalgae, Gulf of Mexico.
Sandvox features used for this site:External Page, Photo Grid, Custom Collection Index, Contact Form, YouTube, QuickTime Audio/Video, Other Objects
Visit Suzanne Fredericq's Seaweeds Lab »
---
Describe your website.
The website highlights systematic research on red algae taking place in the Fredericq lab at the University of Louisiana at Lafayette.
Who is the target audience for your website?
marine biologists, aquatic botanists, evolutionary biologists, persons interested in the Gulf of Mexico biodiversity, marine sanctuary researchers and managers
Why did you use this Sandvox design?
---
---
www.SandvoxSites.com/1057