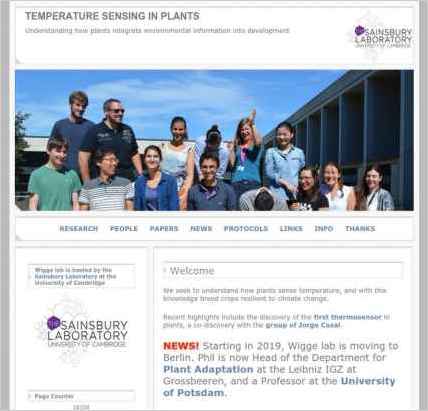 Sandvox was the choice for Philip Wigge to build his website. He chose the "Glass Box" design for the site. People may want to visit the site if they are looking for Plant science lab.
Sandvox features used for this site:Blog, External Page, Contact Form, YouTube, Other Objects
---
Describe your website.
My lab studies how plants sense and respond to temperature. We use Arabidopsis thaliana and Brachypodium distachon as model systems. We are interested in how temperature regulates transcription, and particularly the role of chromatin structure in affecting transcription. We are always interested in hiring outstanding postdocs and students.
Who is the target audience for your website?
Our lab page is designed to provide information on the work done in our lab for a wide audience of interested people, including, students, postdocs, principal investigators, funding agencies, journalists and interested members of the general public.
---
---
www.SandvoxSites.com/1069