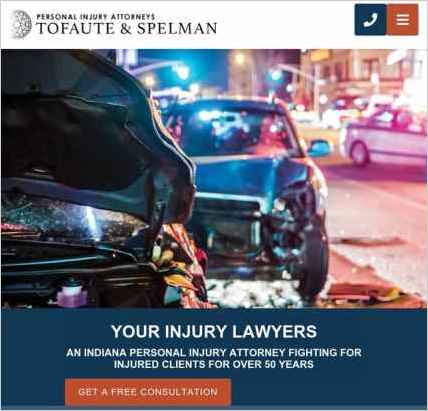 To build "Tofaute and Spelman," Catherine Rubey chose Sandvox. She chose the "Outside the Lines Maroon" design for the site.
Tofaute and Spelman
(Website is no longer listed here.)
Sandvox features used for this site:External Page, Photo Grid, Custom Collection Index, Site Map, Contact Form, YouTube, QuickTime Audio/Video, Editing HTML of text, Code Injection, Google Integration
---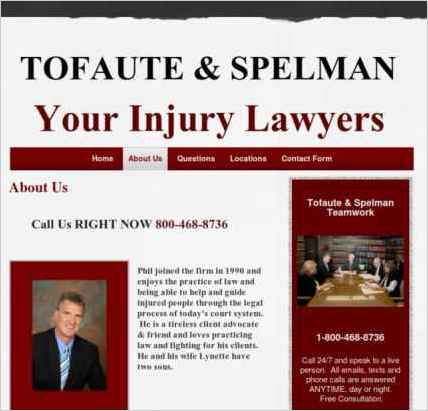 Describe your website.
The Injury Lawyers at Tofaute and Spelman have helped thousands of Indiana accident victims for over 50 years. You can learn more about us on our website, as well as our locations in Indiana.
If you have been injured in a car accident, truck accident, or defective product, call 800-468-8736 right now. The call and your consultation are FREE.
You have questions and we have answers. Tofaute and Spelman, YOUR Injury Lawyers.
Who is the target audience for your website?
We help accident victims with their injury cases. Insurance companies have lawyers helping them and you should, too. We have helped clients from Terre Haute, Vincennes, Lafayette, Bloomington, Indianapolis, and Kokomo.
What is the advantage of your website over others?
Why Choose Us?
24/7 Availability
Free Consultation
We Will Come to You
Over 100 Years Combined Experience
Tell us a story about this website.
Our website is easy to read and navigate from any device or computer. Readers can click to call directly from the website and even submit a question.
Why did you use this Sandvox design?
The format and easy to use templates made using my ideas seamless. The clients love the aspects and the side bars and the ability to embed code for analytics is very important.
What techniques did you use to build this website?
YouTube embedding works well and the side bar as a consistent element on each page is helpful and less work. Just design the home page with it and it duplicates important links and info on each page.
---
---
www.SandvoxSites.com/3342